Bentley is tantalizingly close to approving a two-seat, front-engined supercar derived from the EXP 10 Speed 6 concept, according to board member for sales and marketing Kevin Rose. And there could well be a full-EV version, he says. And after that a second SUV because the early indications are that the high-luxury W-12-engined Bentayga is a huge sales success.
"Our target is 20,000 cars year by 2025 if we have the new models running." In 2014 and 2015 it has been about 11,000. He clarifies that he's referring to those three new models, plus the Bentayga and replacements from the Continental GT, Flying Spur, and Mulsanne.
"Priority number one for us [is] being able to finance our own future. To develop our models from our income. We are feeling confident and excited. The world's our oyster," he says.
Rose makes no attempt to dampen down the global enthusiast hysteria around the EXP 10 and its chances of coming to the road. "Everyone at Crewe wants to do it. To decide whether to do a new model we always ask ourselves three questions. Is there a gap in the market? Is there a feeder group of customers coming from similar but cheaper cars? And can we make it a Bentley? With EXP 10, sure we can. It ticks all the boxes."
So, I ask Rose, why not simply confirm that it is definitely happening? "The starting point is the business case. That means technical feasibility, timing, engineering capacity, as well as finance. And the EXP 10 still hasn't been signed off by the board. We'll tell you as soon as we know. Couldn't keep it a secret, frankly."
Rose doesn't see it as a problem that there are a lot of rivals. "It actually helps if it has competition like the AMG GT and Aston Martin. It means people have already made a decision to be in that coupe market." There will also be a Jaguar F-Type SVR and Maserati Alfieri. These two will probably be less expensive than the Bentley, but part of that "feeder group" Rose spoke of.
Rose confirms to us that the Continental GT and the Flying Spur saloon will be replaced. So the EXP 10 – or whatever the production version is called – will need something special to differentiate it. That something will be performance and sporty character. It will be smaller and lighter than the Continental GT but not cheaper.
It will use a version of a new VW Group platform matrix called MSB. This is rear- or all-wheel drive with a longitudinal engine mounted in the front, but well back in the engine bay to achieve balanced weight distribution and good agility. It was first designed for the next-generation Porsche Panamera. Because it's modular (like VW Group's transverse-engined MQB), several sizes of car can come from it.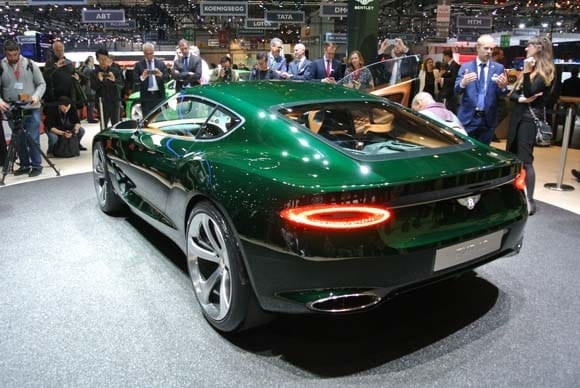 Explaining the logic, Rose says, "The EXP 10 will take the MSB platform from Porsche. We will pay them for it but also we have a big hand in the development of that platform. The MSB will be the core platform for the GT, the Flying Spur and the EXP 10 too. It can be different in the front and the rear and the middle. So you can create a sedan with sedan feel or a sports car with a sports car feel. There's lots of flexibility in the height too." So it's possible to make very low-slung cars including the EXP 10 and Panamera, and taller ones including the next Flying Spur.
He says customers, even the technically savvy ones, don't care about platform sharing. "They understand our modular sharing strategy. We can use common technology and get a different feel. I've never had a customer say 'That's a shared part.'"
He doesn't yet go into specifics about engines for the EXP 10 production model. But the firm's 600-hp W-12 has been entirely re-engineered for the Bentayga, so it seems certain to have a long life ahead of it. The twin-turbo V8, too. What about a six-cylinder? "Don't rule anything out," says Rose. "It's such a fast-moving environment."
More radically, Rose confirms an electric version is under consideration. "You can think of EXP 10 as having an EV option. A pure EV's torque delivery and silence and effortless acceleration, those things are pure Bentley. And heavy weight too!"
The first step will be a PHEV. "We will do a PHEV Bentayga, yes." After that, the pure-EV sports car. "For a full EV you need a 500-km (311-mile) range and 15-20-minute fast charges. If it's achievable then that's a real option. Porsche has said it can be done." He also says wealthy customers might not need to find a charging point. "We also think it could be interesting to take power to customers – a truck with a big generator basically. As a luxury brand selling small numbers of cars we could make life very easy by taking power to you."
All the powerful EVs shown by the VW Group (Audi Q6 eTron, Porsche Mission E) are four-wheel-drive. What does 4WD mean for Bentley? "We are wedded to it for high-performance GTs but not for all of our cars. Look at the Mulsanne. Our customers like the stability of four-wheel drive. You don't go away from that rashly."
It seems the design and style of the EXP 10 Speed 6 won't change much for production. It has both sharper lines and more flowing surfaces than Bentley's current, rather formal cars. But it also says things about Bentley's future in general. Says Rose, "I'd point at the EXP 10. That's an idea for a specific car, but it's also a glimpse of our design in general. It's exactly because it is not radical that it's a Bentley. It would be dangerous for us to do radical stuff. You have to be respectful of where you have been."
"Britishness is highly valued by our customers. British means understated styling, a long life, and special use of materials. It's seen as courageous, innovative, and creative."
So there are many reasons for Rose's confidence. He says, "The Bentayga is the beginning of something not the end. We need one or two more products to maintain our position as the number-one luxury brand. We are working on the business case for the EXP 10. We very much want to do it; we're researching it actively. We are also looking at another type of SUV."
What would that second SUV be? "We have two or three options. One is something sporty. Like the [BMW] X6 is to the X5, or the Range Rover Sport is to the Range Rover."
He doesn't think Bentley can grow its share of the segments where it has operated so far, because it is already strong. "The global market for cars above £130,000 ($200,000) is 60,000, and we have an 18-percent share. In addition, the market for £130,000 ($200,000) SUVs is 40,000 and growing. So that's why we're going into that too."
Another possibility for the company is car-sharing. Rose explains that many ultra-wealthy individuals don't think of themselves as car buyers. They just use livery services with a driver. "It's interesting that there are 15 million high-net-worth individuals in the world but only 60,000 of them buy a car. Lots of them tell us that owning a car is just not interesting. They are simply driven around. They split their time around the world. So we are looking at Bentley mobility and usage services."
source: motortrend.com by Paul Horrell