The Philadelphia Eagles have released head coach Chip Kelly, the NFL team announced on Tuesday.
"We appreciate all the contributions that Chip Kelly made and wish him every success going forward," the team's CEO and chairman, Jeffrey Lurie, said in a press release.
Offensive coordinator Pat Shurmur will serve as interim head coach during Sunday's game against the New York Giants.
Lurie explained his decision in a signed letter, saying that he "determined that it was time to make a change" after watching the season unfold.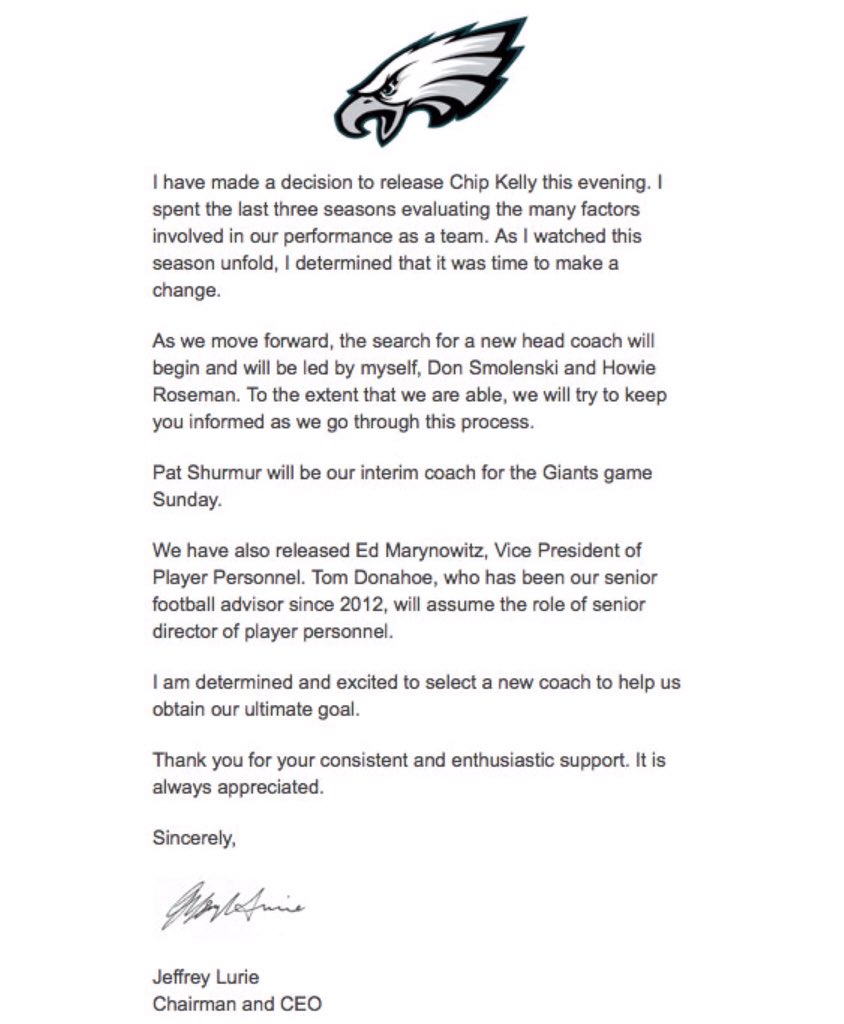 Kelly has assumed much of the blame for the Eagles' poor season and missed chance at the playoffs.
"It's all on my shoulders," Kelly told reporters on Saturday after a 38-24 loss against Washington's football team. "It's the same thing I said a year ago; It's unacceptable. We've got to find a way to do a better job. When are we going to put these guys in better situations to make plays? So it's 100 percent on my shoulders."
Kelly's decision to release some of the team's most talented players, includingLeSean McCoy and DeSean Jackson, made him a target of criticism. McCoy suggested to ESPN in May that Kelly was discriminating against black team members.
"You see how fast he got rid of all the good players," McCoy said. "Especially all the good black players. He got rid of them the fastest. That's the truth."
The Eagles also released Ed Marynowitz, the team's vice president of player personnel, on Tuesday. Tom Donahoe, a senior football advisor for the Eagles since 2012, will become senior director of player personnel.
Eagles players might not have received a heads up about Kelly's firing. The announcement was a surprise to at least one player reached for comment.
source: huffingtonpost.com by Lydia O'Connor