De La Soul came out of Long Island, NY, Amityville to be exact, with a fresh style all their own. It wasn't just the music, either. They ushered in the D.A.I.S.Y. (Da Inner Sound, Y'all) Age via their bouncy, sample-laden take on hip-hop, yes, but also through their decidedly unique fashion sense.
De La Soul——who just released their 11th studio album,And the Anonymous Nobody, on Friday—made that perfectly clear intheir 1989 video for "Me, Myself & I," which saw the baggy-pantsed, leather-medallioned trio surrounded in a college classroom full of gold-chain, wraparound-sunglasses, fur-hat, sweatsuit wearing clones—including the boombox-toting professor.
De La Soul's style may have been rebellious, given the state of hip-hop gear in 1989, but it came from their parents. That shouldn't be all that surprising given it's where a lot of their musical influences came from as well. It only made sense that while Posdonous, Maseo and Trugoy the Dove aka Dave were raiding mom and dad's record collections they'd do some shopping in their closets as well.
"We were no different than any kid growing up in our neighborhoods wanting to have the gold chain like Run-DMC or the Nikes that KRS One wore," Posdnous told Playboy earlier this summer. "We wanted to look good but we were interested in trying different things to do it. Dave would be like, 'Let's take our father's old pants that were bell bottoms but straight leg them. Then they'll look how Lee's look, but the patterns will be different.'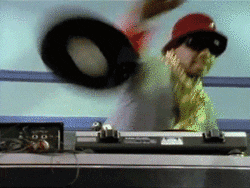 This isn't revisionist history, as Pos told Melody Maker more or less the same thing back in '89: "We've been wearing our fathers' plaid pants pulled up real high for years and, at first, everyone in Amityville thought me and [Dave] were mad. But later they came to accept it and it got to the point where they'd shrug and say, yeah, well, it's only Pos 'n' Dove."
"We've been different ever since we were in school," Trugoy the Dove said in the same Melody Maker interview. "We didn't dress like anyone else and we had our own language so nobody would know what we were talking about."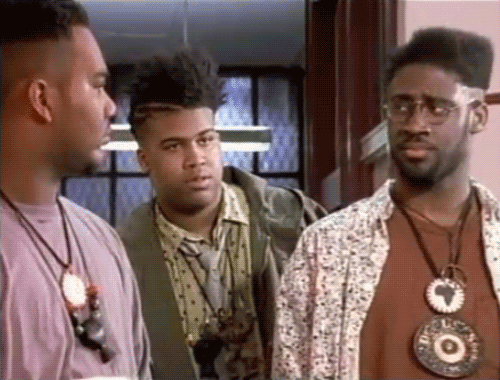 It's impossible to separate the music from the fashion, the style from the sound. Had De La Soul sought to dress like Run-DMC, they couldn't have sounded like De La Soul. "We don't dress with the gold chains and the Cazal glasses or the Kangol hats, and all that stuff, the sneakers, we don't do all of that, we just choose to be ourselves" Trugoy said in their 1989 video press kit that introduced 3 Feet High and Rising—which itself included much the same message on the track "Take it Off"("Take that Kangol off!"). A little later in that video we find them putting on a show for reigning hip-hop royalty while sporting matching striped baja pullovers like the one your dad bought on spring break in Tijuana back in '92.
They were called hippies because of the peace signs on their leather medallions and cut into their asymmetrical hairstyles and the flowers on their record jacket—not to mention the whole D.A.I.S.Y. Age thing—but that wasn't an identity they claimed. If anything, their look was vintage suburban, closer to the Beastie Boys than the Grateful Dead. Baggy button-ups, not tie-dye. They weren't as Afrocentric as fellow Native Tongues acts A Tribe Called Quest or The Jungle Brothers. But in an era when hip-hop gear primarily ran from Run-DMC's black Adidas tracksuits to Public Enemy's black military suits, De La stood out.
"On the serious tip, we don't think that we're so different," Posdnuos declared in that 1989 show, "it's just that everybody tryin' to be the same."
source: gizmodo.com BY RUSS BENGTSON