Jay Z just inked a major movie and TV deal with the Weinstein Company. Hov signed a two-year overall deal with the Weinstein Company Thursday that will give the studio first-look privileges on a variety of Jay projects, according to the Hollywood Reporter. Multiple projects are already in development and are expected to be announced shortly.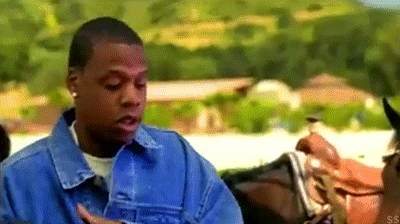 "I'm excited to tell stories from real-life prophets, whom through their struggles have changed the world for the better, and others whose stories are filled with fantasy and delight," Jay Z in a press release Thursday. "Harvey and David [Weinstein] are visionaries both of whom have done this time and time again. I'm already passionate about what we currently have in the pipeline and I'm looking forward to discovering others."
The deal is said to include both scripted and unscripted TV and movie projects, all of which would have Jay rocking the producer title. Jay previously dipped into the world of cinema with production credits onChris Rock's hella underrated Top Five, The Great Gatsby starring Leonardo DiCaprio, and the 2014 Annie remake starring Quvenzhané Wallis and Jamie Foxx.
"[Jay Z] approaches every aspect of his career with both determination and effortlessness, making him one of the leading power players in entertainment history," Weinstein Company co-chair Harvey Weinsteintold THR Thursday. "We already have some exceptional projects in the works and are excited to see what more is to come." With both Jay and Weinstein teasing scripted and unscripted content, the possibilities here are practically endless.
source: complex.com BY TRACE WILLIAM COWEN