Food scientists are already looking to some dramatic-sounding options, from bugs to lab-grown meat to large fish farms, in order to feed a world whose population could approach ten billion humans by 2050. Combined with climate change, the food of the distant future may look very different.
Allie Wist, artist and associate art director at Saveur Magazine, collaborated on the photo series Flooded alongside her team, which included a photographer and prop and food stylists, to depict "a dystopic / utopic vision for a dinner party set in the age of sea level rise." The photos depict a stark future, a transformation of how we may be forced to eat as our food system copes with the changing planet.
"Climate change is a really abstract phenomenon for a lot of people," Wist told Gizmodo. "They don't really associate it with their daily lives. I think food is one of the most intimate substances we encounter. It can lend an emotional intensity and connection that people won't have to these abstract scientific concepts."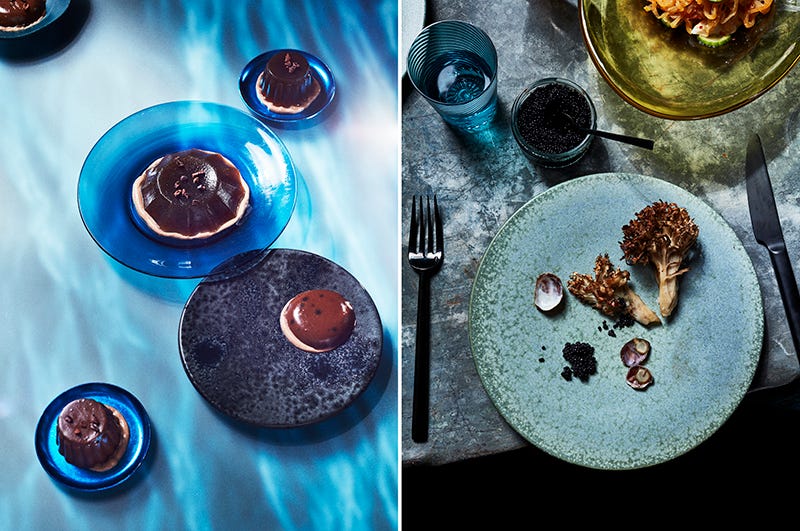 Wist did tons of research, digging through papers and working alongside food stylist C.C. Buckley to develop recipes and ingredients both familiar and confined to the restraints the flooded future might provide the cuisine in the New York/New England area. "It was kind of funny," said Wist. 'Wait, can we use this oil? Will it be in the future? Oh no, we can't use butter.'"
Buckley felt that tweaks would be subtle—cultures won't change what they eat wholesale. Rather, the future she and Wist envisioned took conservation to the extreme, presenting a coastal world where everyone already believes that climate change is real and human-caused and has been forced to cope with its most dire effects. Some of those effects include sea level rise, ocean warming, acidification, and deoxygenation. As part of dealing with all that, we would have been required to adopt a slew of conservation techniques.
That means local farming and foraging for ingredients, no red meat, deserts made from agar (an algae-based gelatin), lots of aquaculture, a proliferation of bivalves which play an important role in filtering ocean water, and canned or preserved foods we might need to turn to as crops shift.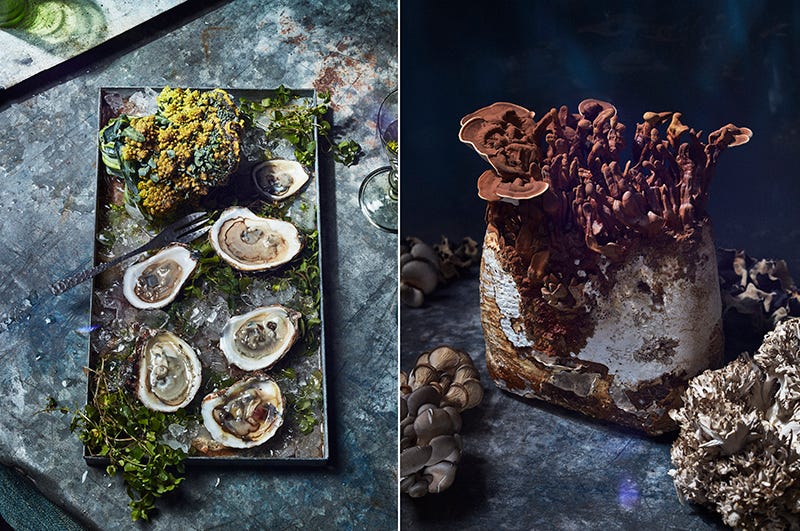 "I looked at a lot of cultures the way they preserve food, like the way some Asian cultures preserve egg yolk," said Buckley. The food is then presented in a landscape and with lighting that's meant to reflect the flooded environment.
Wist hoped the project would make for a dystopic yet inviting dinner party—the food is supposed to look beautiful. Climate change coverage is frequently about everything humans are screwing up. Instead, "we thought our job was to present what we will have to do and how will we adapt," she said.
The team tasted the food but doesn't plan on serving it, though they've got more projects in the works. Wist next wants to re-envision what the dinner party might look like given a future of drought. Aside from sea level rise, scientists expect that human activity will lead to increasingly dusty and dry conditions in the American West, for example.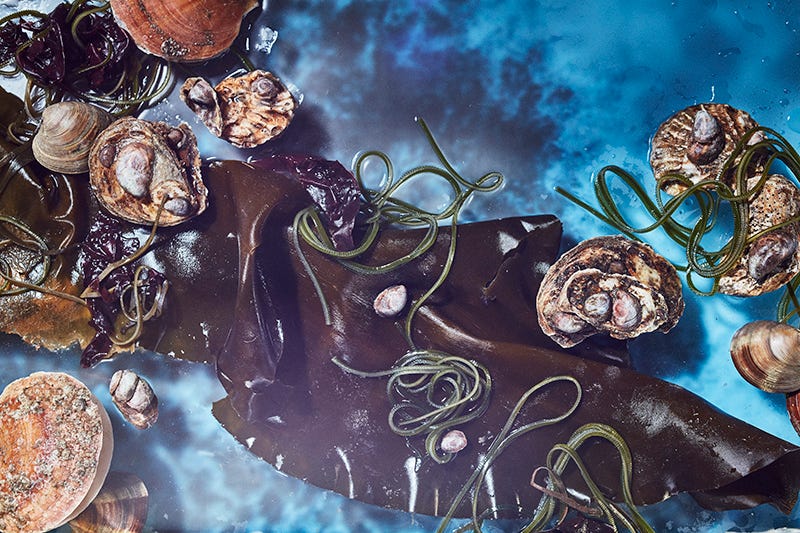 If you're looking for dystopian food you can actually eat, other chefs have brought the haunting effects of human activity into their dishes, too. Michelin starred-chef Alexandre Couillon serves a dish inspired by the ERIKA oil tanker spill off the coast of France at his restaurant, La Marine. A single oyster sits in the center of a large white plate with a squid ink sludge slathered on top.
I reached out to a few scientists to see what their take was on the project. In the meantime, Wist and Buckley both hope their work will make people think a little more about climate change in their lives, and how our food is inextricably tied to the planet.
"I want people not just to see food they eat," said Wist, "But that it's intimately connected to our environment."
source: gizmodo.com by Ryan F. Mandelbaum