Having your own personal style is important. But, whether you'd like to admit it or not, it's hard to avoid following at least one trend. And that isn't necessarily a terrible thing. Sometimes, being able to identify and interpret cool trends can keep your wardrobe afloat.
2016 was all track suits and embroidered reptilians, but this year it's all about bold reinterpretations of old fads. Think camp collar shirts, black loafers with everything, and the new, more fashion-forward adoption of chunky trainers and mesh basketball shorts. We've done the appropriate fashion algorithms and plucked some of the best spring and summer style trends you should try now.
Lightweight Long Layers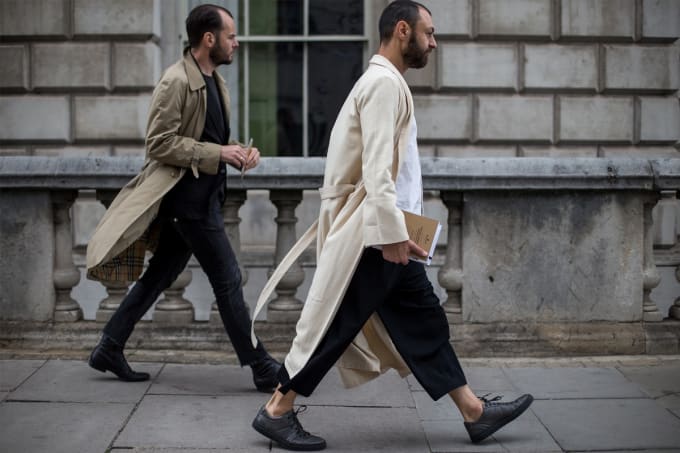 Layering is not just for fall. There isn't enough humidity in the world that could stop a style connoisseur from getting a layered fit off. If you want to try out the Eastern-influenced or mountain man look, we suggest lightweight robes, kimonos, anoraks or belted cardigans from brands like Visvim or Acne Studios. I mean, who doesn't want to look like a lavish king, right?
Cuban Collar Shirt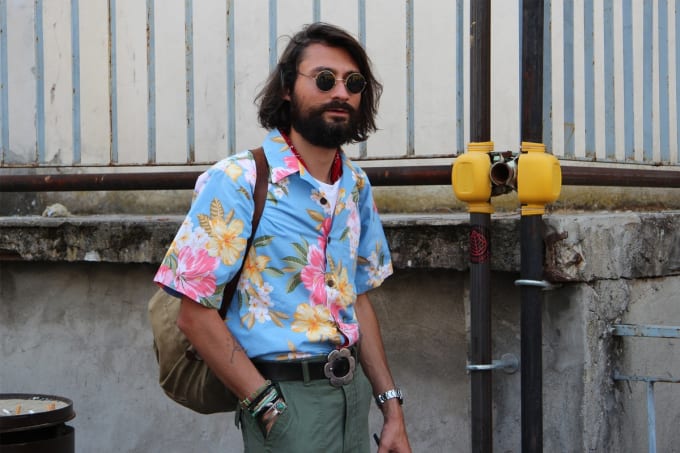 Originating in the 1800s and worn by South American working-class men, the camp collar shirt–also know as Cuban collar–first became popular in the U.S. in the '50s. Since then, it's become perhaps the newest and most sought-after "fashion item" of 2017.
There are various colors and patterns of camp collar shirts for sale from brands like Saint Laurent, Ami, and Dolce & Gabbana, but the Aloha-inspired one is probably the easiest way to get acclimated with this trend. Take notes from guys like Pharrell and Harry Styles and pop a few buttons. Or wear it completely open with or without a T-shirt underneath, if you're feeling froggy.
Mesh Basketball Shorts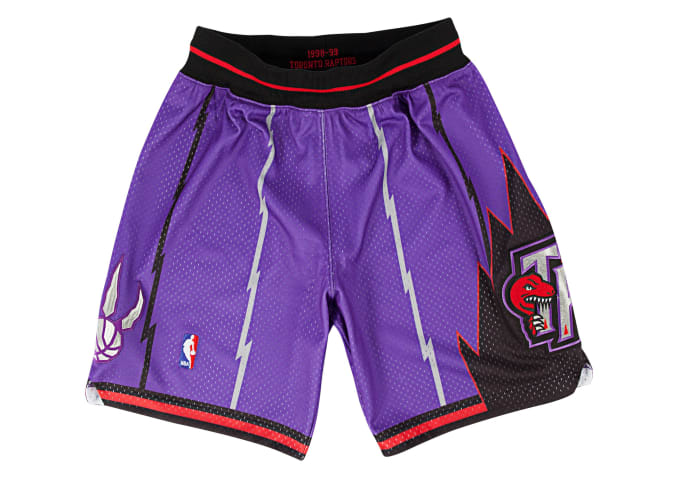 What Mitchell & Ness did for throwback jerseys in the early 2000s was extraordinary. They brought sports nostalgia and style together in a way no one probably ever will again. Unless, of course, they were to do something similar with basketball shorts, which is an easygoing spring style trend everyone should get behind. While guys like Don C and brands like Fear of God deliver their own versions, authentic mesh basketball shorts with a white T-shirt and some crisp Forces ala 2002 should be on everyone's radar.
Crossbody Bags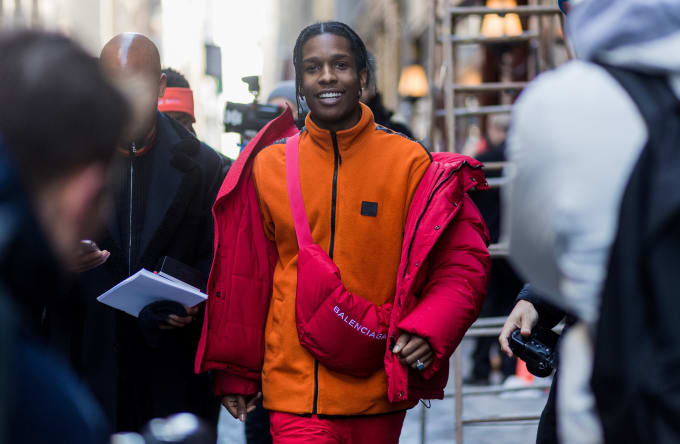 Backpacks? See ya (unless it's Supreme x LV). Totes? Nah. Who wants to carry things with their hands anymore? It's all about the crossbody bag now. Crossbody bags are functional and a little more handy than most other bags. But it's also more than just an accessory to stuff all your things into. Just like watches or socks, it can be a key element of your fit. If ASAP Rocky is all about it, then you better recognize.
Baggy Trousers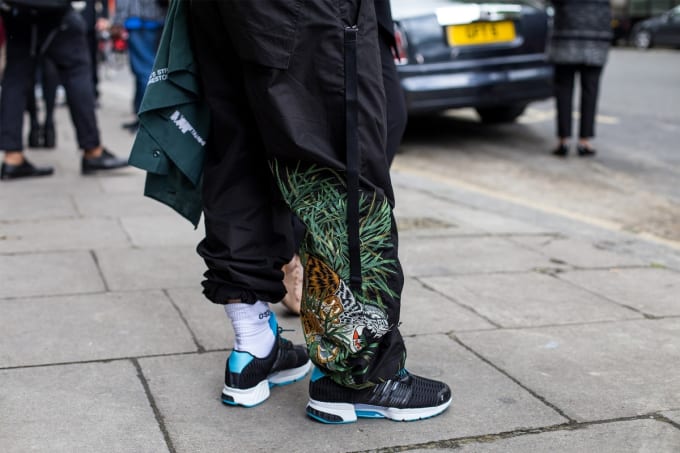 Slim trousers are still very much a style staple, but baggy trousers are back. As "relaxed" and "loose" continue to make strong cases for style themes of the year, more and more labels, including Raf Simons, Dries van Noten, and Balenciaga, are going the way of the wide leg silhouette. Even athletic-influenced variations are in for a new interpretation of "dadcore," which is a look ASAP Rocky and Kanye West have adopted over the past few months. While the trend may be reminiscent of your JNCO days, there is still a sophisticated or street way to rock these jawnz, as long as you make the effort, holistically.
Oversized Belts
Remember when you were seven years old but your belt was made for a teenager with a 34 waist, so it had the ill hang time off the loop? Time to be in that moment once again, but this time intentionally. The oversized belt has returned. Try oversized trousers worn at or above your waist with the shirt tucked in to showcase your fashionable flap. The best part about this trend is it's easy to pull off. You can just go into your dad's closet and go H.A.M.
Neutral Color Fits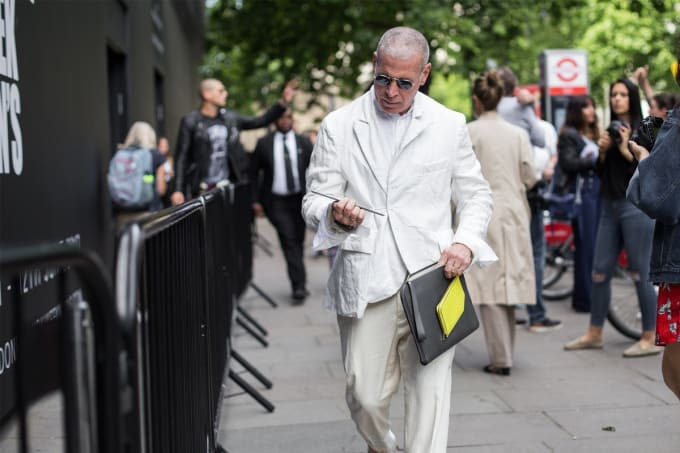 Sure, it's difficult to put together an outfit with different variations of "tan" without looking like a park ranger. But if you keep it simple you could pull this trend off nicely. It's all about choosing the right pieces and fabrics. Throw on a T-shirt, pleated shorts, and monotone sneakers that all live in the same neutral color family. Trust us, you have no reason to shy away from this one.
Round Frame Sunglasses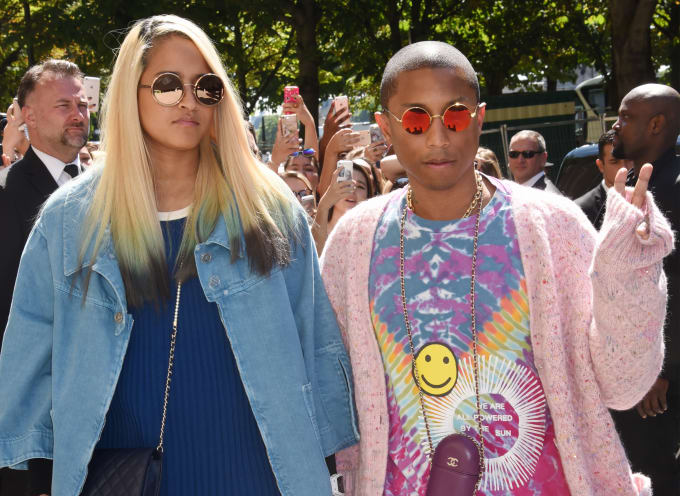 Rocking John Lennon lenses is definitely the move this spring and summer. Taking it beyond the standard Wayfarer style, these perfectly round, daintier sunglasses from brands like Garrett Leight, Mykita, and Chanel give a vintage vibe with the ability to showcase your personality through colorfully-tinted lenses, thick or thin frames, whatever your style-centric heart desires. But whatever you do, make these must-haves a part of your eyewear repertoire.
Chunky Trainers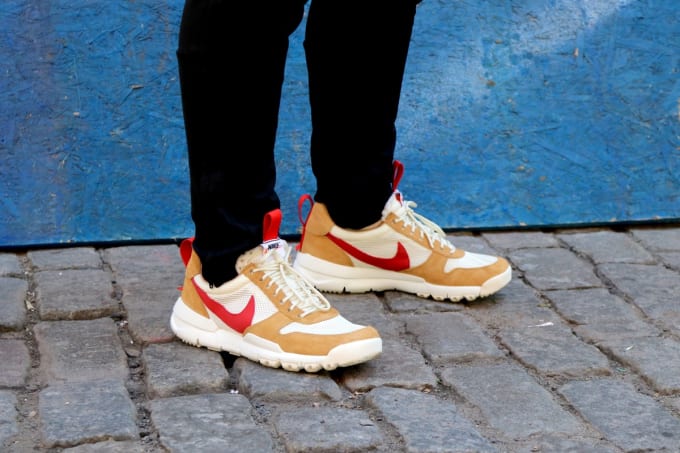 The ugly, bulky sneaker isn't anything particularly new, but we've definitely seen the footwear make a comeback. Brands like Balenciaga, Rick Owens, and Nike in collaboration with Tom Sachs have released their own take on the shoe. Even Kanye West previewed his very own yet-to-be-released bulbous interpretation. Now, this trend is not be for the faint of heart. But if you're down to try the look, the sneaker goes well with a pair of baggy or wide-legged trousers.
Black Loafers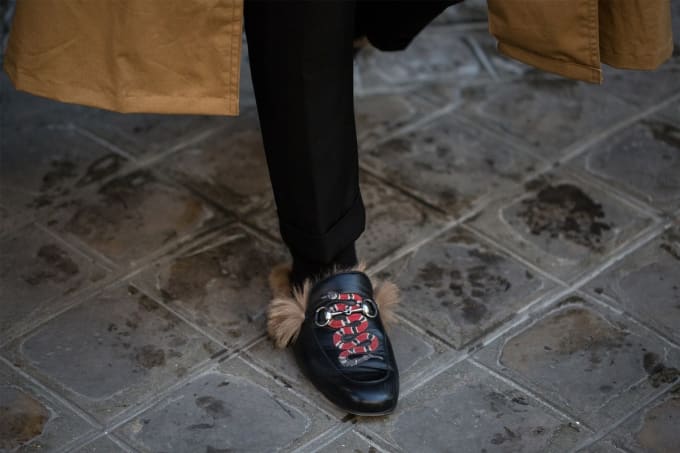 If you don't own a pair of black Gucci loafers at the moment, do your style opinions even matter? What can easily be mistaken for footwear only worn by ill-dressed Wall Streeters or Chemistry teachers is now very much worn by celebrities, designers, and all the cool kids you know. Designers like Versace, Junya Watanabe, and even Robert Geller for Common Projects have made loafers a staple in their spring shows and collections. If you're really down, take it up a notch and cop a convertible loafer with the fold down back or sleek slip-ons for a look that says both "I'm chilling" and "I am fashion."
source: complex.com BY NICK GRANT