In combat sports, opponents are compared to each other via the classic "Tale of the Tape" which reveals such information as height, weight, reach, and other key statistics. These stats are readily known for the August 26 bout between Floyd Mayweather and Conor McGregor, but there's more than just those figures. Their physical attributes are one thing, but the career trajectory of the Irishman should also be reviewed closely to that of the champion boxer. In some ways, McGregor's biggest victory would be to obtain the same type of career that Mayweather has enjoyed for years.
The nickname "Money" is so much more than that to Floyd Mayweather. It's a lifestyle that he embraces flamboyantly for the world to see. Peruse his social media profiles for images of Mayweather basking in the glory that comes from his financial dominance, of which there is so much that he's been recognized as the wealthiest athlete in professional sports on multiple occasions.
McGregor is making strides in similar ways. As he climbed the divisional ladder in the UFC, McGregor flaunted his new financial stability. With each win his ability to demand more of the UFC increased, to the point that he broke all records for fighter purses at UFC 202 when he earned $3 million. His purse for UFC 205 was not disclosed, but many believe it was even larger. In June Forbesrevealed that McGregor ranked number 24 on the list of highest paid athletes for 2016. McGregor used his star power to force the UFC's hand to treat him differently than they treat nearly all of their athletes not named Ronda Rousey—just like Mayweather changed the way promoters were forced to work with him during his career. Not bad for a fighter who still has vivid memories of living on government assistance.
Rewind the clock to November 1999. Mayweather dropped a bomb on HBO when he deemed their $12.5 million deal over seven fights a "slave contract." Even though he eventually signed a similar deal, his statement set the tone for a running conversation that would see Mayweather transition into the promotional powerhouse that he is today. He still struggled to draw in PPV buys and pack venues, but he was honing the ability to bend promoters to his will. McGregor has already found a way to do the same thing with UFC President Dana White and the dictator-like UFC.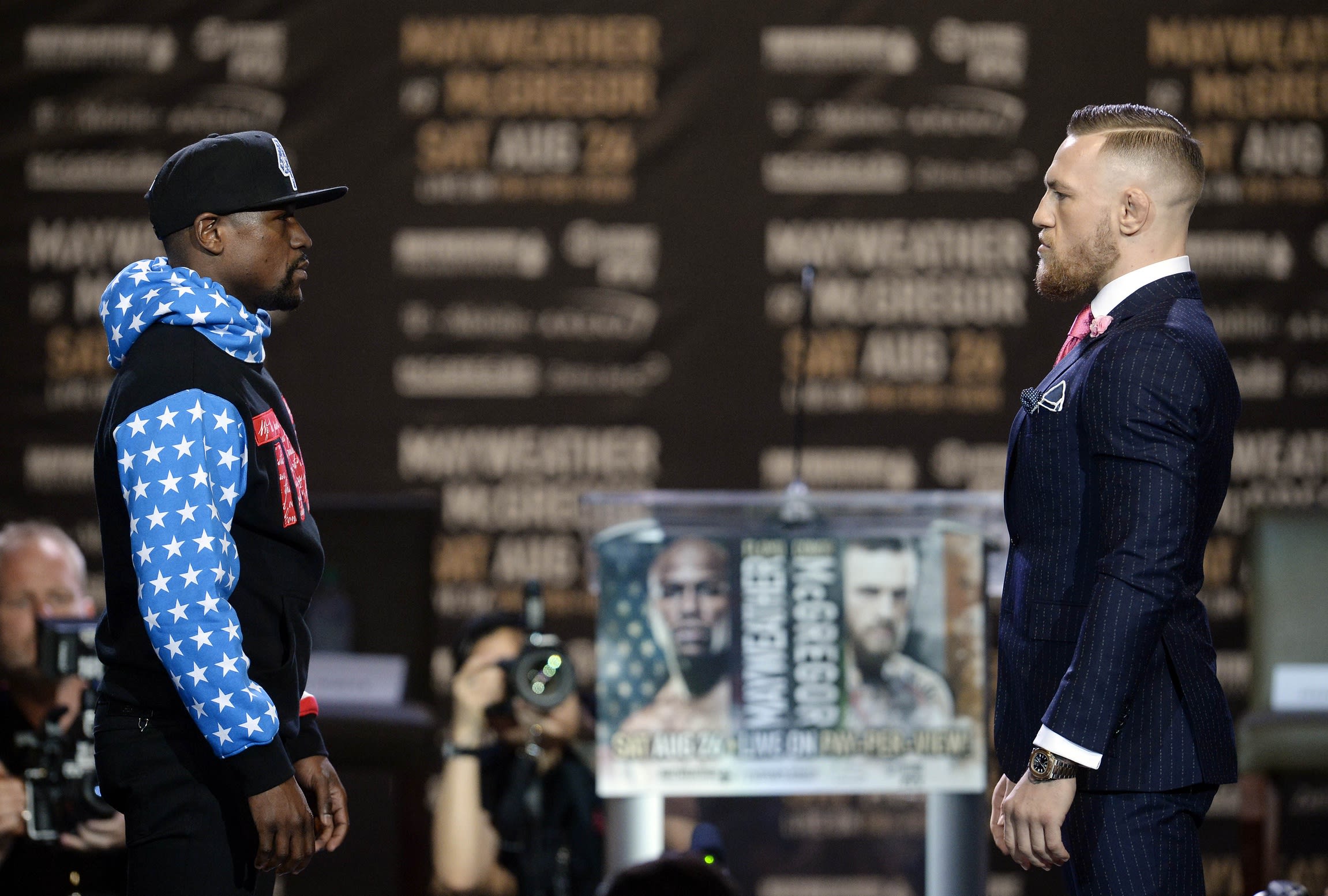 Two years ago, McGregor started to talk about a fight with Floyd Mayweather. He started putting his name next to Mayweather's before he unified the featherweight title at UFC 194. In August of that year he took a moment to call out the biggest name in combat sports:
"But if you're talking about a fight that could generate half a billion—it's this one. There's never going to be another boxing fight like this. Only a cross-style match between Mayweather and me could generate that kind of interest and revenue," McGregor said, as reported by USA Today. "So maybe it could happen. I would certainly be up for it…. in a real fight I would dismantle him in seconds."
Statements such as those started to pique the interest of fans throughout boxing and mixed martial arts. Yet, the UFC would continue to push against the idea—often saying an outright no.
"No, I never thought it was going to happen," White said in 2016. "They seem to want the money probably, but I don't know how bad they want to make that a reality. Listen, Conor is under contract with me."
White is known for his penchant to flip-flop on hardline statements like that, but McGregor deserves credit for playing his part. Much akin to the way Mayweather forced the issue with Top Rank CEO Bob Arum back in 2006 when he paid $750,000 to get out of his contract, McGregor found a way to move the UFC's hand to allow him to create this opportunity. Mayweather's move to free himself from Top Rank translated into millions of dollars in revenue. Now he's promoting bouts and fighters under his Mayweather Promotions company, establishing a long-term placement in boxing long after he can no longer step into the ring. McGregor has hinted at a similar plan and even though McGregor Promotions has been refuted, he's placed his eye on growing opportunities outside the UFC.
"I feel I'm touching markets the UFC have never touched before," McGregor said as reported by Damon Martin of Fox Sports. "We'll continue to rise, continue to grow and see where it goes, but the sky is the limit."
Conor McGregor is going to test that limit on August 26 when he steps into the boxing ring against Floyd Mayweather. All of the success doesn't hinge on whether or not he gets the victory. Instead, this is a test to see how much of a draw McGregor can become through association with Mayweather and his own promotional prowess. McGregor is doing things his own way, but the prologue to this playbook was created by Floyd Mayweather years earlier.
source: complex.com BY RAPHAEL GARCIA