Game 5 of the NBA Finals was over a month ago but the NBA continued to dominate headlines with its free agent signings and the Summer League. Although you can't dissect and extract too much from Summer League performances and outcomes, it gives us a glimpse of some of the young talent that could ultimately be the faces of the Association down the road. The 2017 rookie class impressed in Orlando, Utah, and Las Vegas and lured many fans to their televisions.
In fact, the NBA Summer League experienced an all-time high in terms of viewership that had a lot to do with the Big Baller Brand effect. According to Awful Announcing, on Lonzo Ball's debut on July 7 against the  L.A. Clippers, ESPN drew 879,000 viewers to set an all-time record for the most-viewed Summer League game. The record didn't last long as Ball, the second pick of the 2017 NBA Draft matched up against the third pick, Jayson Tatum, of the Boston Celtics the next night. That game drew 1.106 million viewers and was the first sold out game in Summer League history.
But Ball and Tatum weren't the only ones who were balling out in the Summer League. There were several second- and third-year players that stood out as well. Here nine guys who caught our attention over the past three weeks.
Luke Kennard
Team: Pistons
League: Orlando
Stats: 17.2PPG, 46.5 FG %, 48 3PT %, 4.3 RPG
Let's put this narrative to rest. Luke Kennard is not just a shooter. He wasn't just a shooter at Duke and he won't be at the next level. Kennard is a professional bucket getter, who has an array of ways to score from anywhere on the court. In fact, in his first games as a pro, Kennard showed that he's just effective off the dribble as he is off the catch and shoot. The 21-year old rookie out of Duke also showed off his playmaking ability and vision in addition to the efficient shooting we all saw in Durham last year.
Kennard's biggest question out of college was his ability to defend.  Albeit he guarded non-NBA talent most of the time but moved his feet well and showed great anticipation defensively in his five game in the Orlando Summer League. Pistons' coach Stan Van Gundy told the Charlotte Observer that he has a real shot at playing time as a rookie.
Dakari Johnson
Team: Thunder
League: Orlando
Stats: 18.0 PPG, 56.9 FG %, 5.5 RPG
Remember the Kentucky team that was on the brink of completing a perfect 40-0 season? Dakari Johnson was a key rotational player on that team and we haven't heard much from him since then. Two years later, he still hasn't made his NBA debut. After being selected in the second round of the 2015 NBA Draft by the Thunder, Johnson has spent all of his pro career in the D-League, which is now the G-League. Johnson improved his chances of finally getting a shot by dominating Summer League competition this year. Averaging an efficient 18.0 points per game, the Brooklyn native showcased an array of moves whether it was in the post or off the dribble. The competition may have been too easy for him as we saw Johnson play point guard several times during the Summer League. Yes, a 7′, 265-pound guy was running point guard and it wasn't garbage time either. Raymond Felton, you may a little competition for that backup spot in Oklahoma City.
Donovan Mitchell
Team: Jazz
Stats: 28.0 PPG, 2.5 RPG, 6.0 SPG (Vegas)
15.3 PPG, 3.3 APG, 3.3 SPG (Utah)
It's early but Donovan Mitchell could end up being the steal of this year's draft. He's a great wing defender with freakish athleticism and silky smooth jumper. He's certainly a nice start to soothe the pain of fans this offseason in the post-Hayward era. His Summer League was highlighted by a 37-point, eight steal performance. He had all eight steals before the fourth quarter.
Even with Hayward gone, the Jazz still have a lot of young pieces to build off of and Mitchell could possibly contribute early as a three and D guy. I mean, who wouldn't want a rookie that can do this?
Bam Adebayo
Team: Heat
Stats: 17.5 PPG, 8.3 RPG, 2.3 BPG (Orlando)
15.7 PPG, 8.7 RPG, 43.3 FG % (Vegas)
Set screens, catch lobs, and play defense. That pretty much sums Bam Adebayo's role at Kentucky. Playing with other lottery picks in De'Aaron Fox and Malik Monk, Kentucky coach John Calipari didn't need Adebayo to create on his own. Although he flashed his mid-range game at times, the majority of his made baskets came from point blank range usually resulting in vicious rim rockers. The Summer League gave us a chance Adebayo as the focal point of the offense.
Let's just say we saw some plays that weren't documented in Adebayo's repertoire. Although he was inefficient at times, which is common for a rookie, Adebayo put up some big numbers in Orlando and Las Vegas. His former head coach took notice.
Wayne Selden
http://images.complex.com/complex/images/c_limit,w_680/fl_lossy,pg_1,q_auto/uz2oau7oy5ag07v9z4v2/wayne-selden-nba-summer-league-2017
Team: Grizzlies
League: Las Vegas
Stats: 22.7 PPG, 3.8 RPG, 3.0 APG
You probably didn't notice that former Kansas star had a brief stint with the Grizzlies last year. Well he did and he was actually pretty productive, starting in two playoff games. Every single team passed on Selden in the 2016 NBA Draft. One year later, he finished Summer League play fourth in scoring among all players just two weeks after signing a mult-iyear deal with Memphis. It's not your average undrafted story as Selden was once thought to be a potential lottery pick in college but he found his own way to the league and ultimately that's the only thing that matters.
Cheick Diallo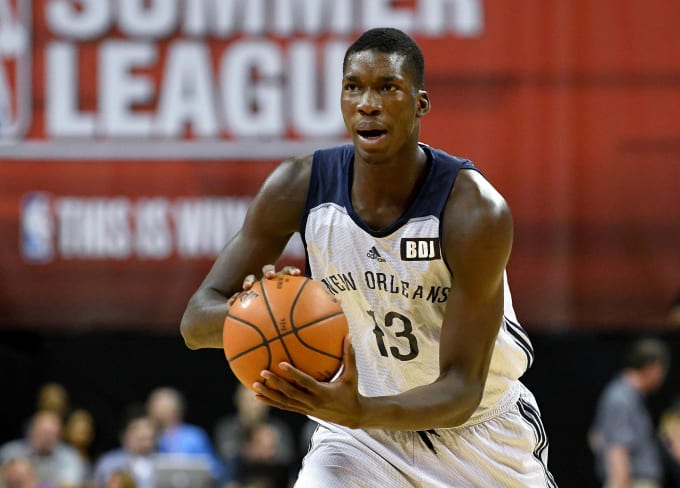 Team: Pelicans
League: Las Vegas
Stats:18.6 PPG, 9.8 RPG, 56.2 FG %
Diallo is another former Jayhawk that looked like a man amongst boys. Diallo was a highly-touted recruit out of high school and he's only two years removed from winning MVP honors in the McDonald's All-American game and Jordan Brand Classic. Despite only playing 17 games last season with the Pelicans, Diallo gained a lot of experience in the G-League, averaging 15.0 points and 8.5 rebounds per game. Diallo took that experience and ran with in Vegas, finishing 13th in scoring and third in rebounds.
Dennis Smith Jr.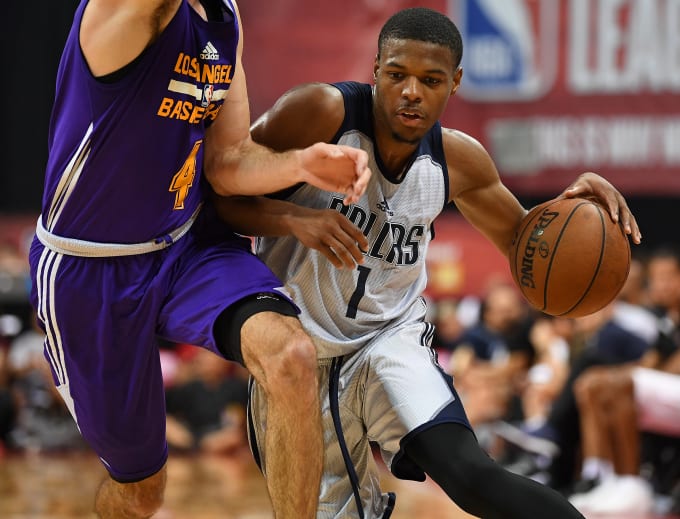 Team: Mavericks
League: Las Vegas
Stats: 17.3 PPG, 4.8 RPG, 4.3 APG
You can already hear the groans from the Knicks' fanbase every time a Dennis Smith Jr. highlight goes viral. To be fair it's summer league and we haven't seen their draft pick Frank Ntilikina yet, who could end up being a better fit in that organization but Smith Jr. is trending toward one of those guys the Knicks shouldn't have passed on.
From his pregame dunks in layup lines…
To his acrobatic finishes in the paint, Smith was the most exciting player in the Summer League. Even his missed dunks were impressive…
His 48-inch vertical was on full display for the past two weeks. Fayetteville's finest was virtually unguardable in the open court. Don't forget that Smith was crowned as the top point guard in the 2016 high school recruiting class before his ACL injury. The kid has serious potential.
Jayson Tatum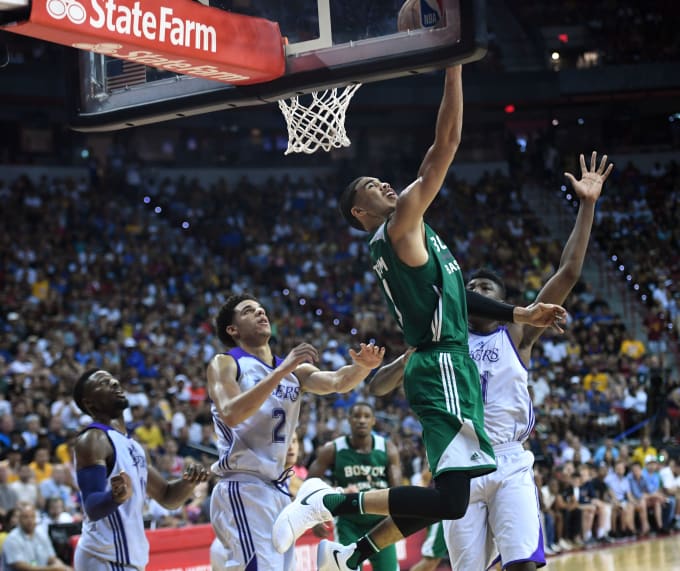 Team: Celtics
Stats: 17.7 PPG, 8.0 RPG, 42 FG % (Las Vegas)
18.7 PPG, 9.7 RPG, 46.8 FG % (Utah)
Danny Ainge made the swap with the Sixers to move down to the third pick, believing the guy they would've taken first (Jayson Tatum) would be available. Whether you believe that or not, he doesn't look as crazy as you probably thought he was at the time he passed on Markelle Fultz. Again it's Summer League but what Tatum flashed will likely translate to the NBA. Coming into the draft, he was regarded by as the most skilled prospect offensively behind Fultz.
Tatum hit tough shot after tough shot effortlessly while in Utah and Vegas. Whether it was in the post or isolation, he made defenders look helpless. His shot selection is Demar Derozan-esque which isn't really a compliment but there's no doubt he can straight up ball.
Lonzo Ball
Team: Lakers
League: Las Vegas
Stats: 16.3 PPG, 7.7RPG, 9.3 APG, 2.5 SPG
The biggest attraction of the 2017 Las Vegas Summer League was Lonzo Ball. After many bashed Ball for his 2-for-15 from the field debut, he quickly responded with a triple-double his next time out and a 36-point performance in his third game. The Big Baller has embraced the spotlight, sporting different brands of shoes every night including Nike, Adidas, and Under Armour, causing speculation on if he's foreshadowing a future deal.
Say what you want about his shooting mechanics, but Ball's vision, passing ability, and instincts are as good as advertised, maybe better. His assist per game average was the highest ever in Summer League history. He made everyone him better which ultimately led to the Lakers reaching the Summer League Championship and Ball garnering league MVP honors—despite not playing in the title game.
http://images.complex.com/complex/images/c_limit,w_680/fl_lossy,pg_1,q_auto/uz2oau7oy5ag07v9z4v2/wayne-selden-nba-summer-league-2017