They left it up to the judges. Again. Gennady Golovkin and Canelo Alvarez fought to a controversial draw last year in their excellent first fight and Saturday at T-Mobile Arena was the grudge match. It was supposed to settle once and for all who is the better fighter. 
Neither delivered the knockout as promised, amid all the bad blood leading up to it. And neither ever really came that close. But in the judges' eyes, Alvarez delivered the performance of his life in front of 21,965 fans, upsetting Golovkin to take his WBA and WBC middleweight titles in an outcome that will certainly be debated for years to come.
Canleo, the underdog and younger fighter (28), won a tight majority decision after 12 brutal rounds of boxing that was thrilling, exhilarating, and exhausting. Judge Glen Feldman scored the bout a draw, 114-114, while Dave Moretti and Steve Weisfeld scored it 115-113 in favor of Alvarez (50-1-2, 34 KOs) to give him the biggest win of his career and earn him serious consideration as the best pound-for-pound boxer in the world.
While many media members at the fight scored it a draw, Complex Sports scored it a 116-112 victory for Golovkin (38-1-1, 34 KOs) who suffered his first career loss and failed to make history—he was vying to break a tie with the legendary Bernard Hopkins with a 21st successful defense of his middleweight championships.
Alvarez employed a different strategy than the first fight, being extra aggressive from the get-go, dictating the pace, and moving Golovkin backward in ways we haven't seen before. It clearly made an impression on the judges.
"I showed my victory with facts," Alvarez said. "He was the one who was backing up. I feel satisfied because I gave a great fight. It was a clear victory."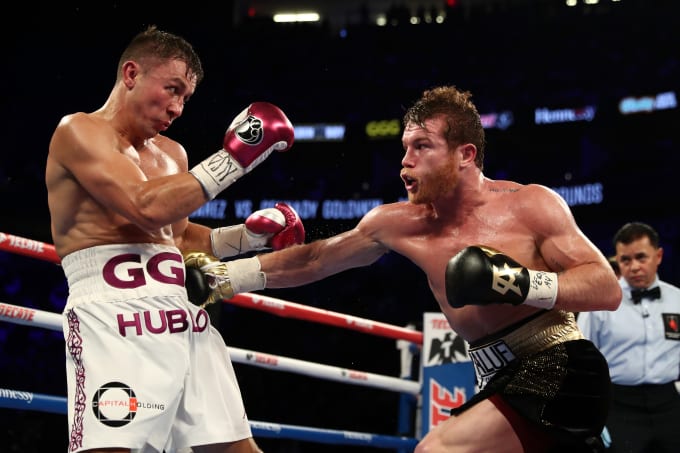 In boxing, only a knockout is clear and you can easily make the case that Golovkin was worthy of winning. Alvarez has an incredible chin and absorbed a ton of punishment from GGG. But he also handed out plenty of his own and Golovkin's out-spoken trainer Abel Sanchez, who heavily criticized Alvarez's performance in the first fight, had nothing but praise afterward.
"We had a great fight, the one we expected the first time around," Sanchez said. "I had it close going into the 12th round. We had good judges who saw it from different angles. I can't complain about the decision but it's close enough to warrant a third fight. Canleo fought a great fight."
This fight was supposed to happen in the spring, but Alvarez's positive test for performance-enhancing drugs and subsequent suspension pushed it back to September. While Canelo will have to deal with the stigma for the rest of his life, and always be viewed as cheater in the eyes of many boxing observers, he's the new champion.
Golovkin, who took eight stitches over his right eye after the bout, didn't give Alvarez full credit for the win and didn't think he did anything particularly special in order to win the fight.
"I'm not going to say who won tonight, because the victory belongs to Canelo, according to the judges," the 36-year-old said. "I thought it was a very good fight for the fans, and very exciting. I thought I fought better than he did."
The narrow victory for Alvarez means we're probably getting a third installment, which is great for boxing considering how entertaining the two fights have been. If negotiations aren't drawn out, it could go down on Cinco de Mayo—when the two were originally scheduled to fight. Golovkin said he would be down for one more fight.
"Under the right conditions, yes," he said.
As for the undercards, they looked great on paper but were a complete dud because all three ended early.
In the co-main event, Jaime Munguia earned the knockout over Brandon Cook to retain the WBO junior middleweight title. Munguia (30-0, 26 KOs) completely overmatched Canadian Brandon Cook. Referee Tony Weeks stopped the fight in the third round, taking mercy on Cook who could barely muster any offense and took a ton of punishment from the 21-year-old Mexican sensation.
"With each fight you will see me getting better," said Munguia, who could soon move up to the middleweight division. "I just want to show that I can get better and that I want to face the best, so I can show that I am the best."
Cook thought Munguia got away with too many questionable shots.
"He kept hitting me in the hip and a lot of low blows, which surprised me because the referee is experienced and didn't give Munguia a warning," Cook said. "He's tough, and it is what it is, and I hope to come back soon. I appreciate the support my Canadian fans have given me."
Roman "Chocolatito" Gonzalez opened the PPV telecast in a super flyweight contest, showing flashes of his former self in an easy victory over Moises Fuentes. Gonzalez, at one time the best pound-for-pound boxer in the world, landed a vicious right hook in the fifth that stopped Fuentes (25-6-1) in his tracks. In fact, he was out cold before he hit the mat and referee Robert Byrd immediately called the fight. Chocolatito (47-2, 39 KOs), a hero in his native Nicaragua, had suffered two straight brutal defeats at the hands of Srisaket Sor Rungvisai before stepping back into the ring for the first time in a year.
"When he hit the floor, I got very worried for him and I panicked, and when he regained consciousness and I prayed for him and I told him that I hope God blesses him, his family, and his career," Gonzalez said. "I asked for him to forgive me, because this is the job that we chose and that I didn't mean to hurt him."
In the WBA middleweight eliminator bout, David Lemieux followed up Chocolatito's knockout with one of his own, landing a devastating left hook on Gary O'Sullivan that had him seeing stars in the first round. Lemieux, known for his power punches, landed his hammer on the mustached O'Sullivan who talked a ton of shit heading into the match. Referee Russell Mora didn't even get through a 10 count before calling it.
"Don't piss me off, guys," Lemieux said. "I didn't like all that trash talking that was done to me from O'Sullivan's side."
The Montreal native (40-4, 34 KO) is one of the most powerful punchers in boxing and actually robbed fighting fans of what was expected to be an entertaining grudge match. An expert trash talker from Ireland with a mustache straight out of the 19th century, O' Sullivan (28-3) wasn't happy that Lemieux re-hydrated to 179 pounds, 19 pounds heavier than he weighed-in on Friday.
"Unfortunately, this is boxing. I got caught, and it just so happens it was a 179 light heavyweight who caught me," O'Sullivan said. "That was a big weight discrepancy at fight time."
source: complex.com BYADAM CAPARELL