"I don't ever make moves under pressure," Nipsey Hussle explained to me back in February 2018. His final album, Victory Lap, had been out for less than a week, and he was stopping by New York City for an on-camera interview. The early numbers were looking good on his latest release. Last time that he checked, the project—which would eventually be nominated for a Best Rap Album Grammy—was headed for a top 5 debut.
On one level, the title Victory Lap represented the third installment of his Marathon trilogy. But as he savored the moment, reflecting on his accomplishments to date, Nip unpacked the words more fully. "We was able to become real successful in the mixtape space," he said, sipping a cup of tea. "And obviously we announced the partnership with Atlantic Records. We established businesses and built an ecosystem around the music with the Marathon Store, with the Marathon Clothing, with the Marathon Agency. One of the things [Victory Lap] means to me now, when I think about it, is being able to stand up in the game. Being clear that Nipsey Hussle has a clear lane in the game, and built it, and took the stairs. We had opportunities to be assisted, but chose to do it on our own."
In the weeks since Ermias Joseph Asghedom's senseless murder, his legacy has come into sharper focus. If anything, the man known to many as "Neighborhood Nip" downplayed his impact as an entrepreneur and community leader during our conversation. Any misconceptions have been erased by his memorial service at the Staples Center, not to mention his hearse's heroic last ride down a street that would soon be renamed in his honor. The intersection of Crenshaw Boulevard and West Slauson Avenue—where he came up hustling, invested millions, and ultimately lost his life—will henceforth be known as Ermias "Nipsey Hussle" Asghedom Square.
"WE HAD OPPORTUNITIES TO BE ASSISTED, BUT CHOSE TO DO IT ON OUR OWN." – NIPSEY HUSSLE
The all-too-familiar rap star narrative of diversifying into new business ventures while turning one's back on the streets that raised him did not apply to Nipsey Hussle. He had a vision that went way beyond handing out turkeys on Thanksgiving. Nipsey was extremely involved in his local community, founding and supporting numerous L.A. businesses and organizations. According to some estimates, the businesses he and his partners built employed over 40,000 people, many of them ex-convicts who might have had difficulty finding a job elsewhere. From the co-working space Vector90 (a business incubator with built-in STEM academy) to local ventures (a FatBurger partnership, Steve's Barber Shop, Elite Human Hair, the World on Wheels skating rink, and more), Nipsey Hussle put on for his city like no other rapper in history.
Nipsey was just getting started. Plans had been drawn up to open a six-story residential building atop his smart store with a light-rail train connecting the area he dubbed "Destination Crenshaw" to LAX. More than just meeting with LAPD officials to discuss curtailing gang violence, Hussle was also planning to visit Washington D.C. along with T.I. and their business associate Dave Gross for a series of meetings with Congress to discuss the nationwide rollout of Vector90 as part of a larger initiative called Our Opportunity. There was a lot of important work left to be done, which helps explain the widespread sense of outrage at his untimely death.
Back in February 2018, Nipsey spoke about how he dealt with one of the most difficult times in his career, between the end of his deal with Epic Records and the game-changing rollout of his 2013 Crenshaw mixtape, which he famously sold for $100 apiece. "Real-life things," is what he said he was going through at the time. "Street shit that never really got written about, 'cause it doesn't belong on the front page. My brother going to jail. Us getting raided. Us having real war in the streets."
At times like these, this son of an Eritrean immigrant evoked a Red Sea metaphor that may be helpful today. "I tell my daughter don't let the water in the boat," Nipsey said. "The boat'll never go down if you don't let the water in the boat. And that's just water—you know what I'm sayin? That's just rough seas. We got a destination. We trying to get across the ocean to the other country, or to whatever land on the other side of this water. All that other shit, you go straight through the waves. Just don't let the water in the boat."
Over the past few weeks, I spoke with some of Nipsey's family members and inner circle about their plans to carry his legacy forward. Having spent years living and working alongside this visionary artist, thinker, activist and entrepreneur, they were all used to life in Marathon mode. Even as they fought back tears, they all agreed that this particular marathon will continue.
Six of Nipsey Hussle's friends, family, and close business associates, in their own words:
Samiel 'Blacc Sam' Asghedom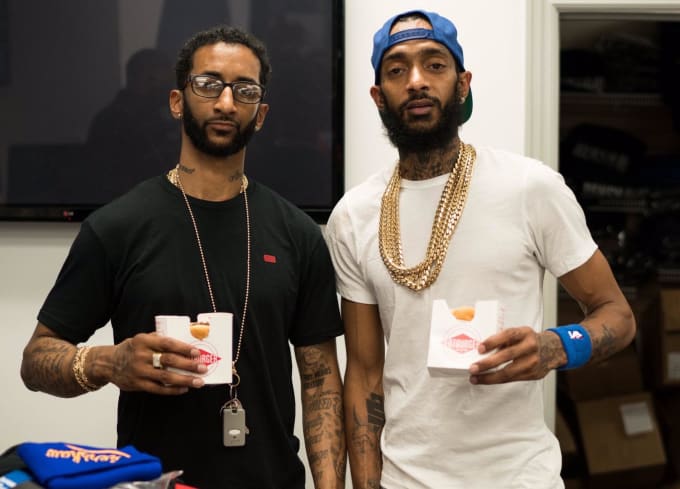 Nipsey's older brother and business partner, co-founder of All Money In, co-owner of the Marathon Clothing
I have so many good memories. I have a lifetime full of memories, from riding bikes to filling out certificates of incorporation, getting business cards made up, making music that the higher echelon attached to. Just to see what it led to definitely was humbling. Just everything, man. The whole process: all the ups and the downs, the whole marathon, the long haul, and everything that he taught me. Everything that he taught everybody, and everything that he stood for, we'll try to continue as much as we can.
I'm proud of everything that he accomplished, and everything that he meant to the people. People that he motivated on so many different levels. And just his attitude, his spirit. Staying humble at all times and giving so much of himself to everybody.
All the memorial services around the world are just a testament to how many people he touched. It's a testament to the message and the people that he inspired. The story, just making something out of nothing, and never thinking he was bigger or more special or better than anybody. He was a true people's champ, man. He showed people that if you believe and stay the course, you can always achieve. That's what everybody in every community and every area in the country loved and respected about Nip. They're showing their love, and it's humbling.
Everybody's goals were different, but I think my brother's goals were even different than mine. He was really destined for greatness and he always was a visionary. He had so many ideas. He always wanted to be innovative and ahead of the curve and just achieve greatness.
"AS A YOUNGSTER, HE NEVER RESPECTED PEOPLE WHO MADE IT AND LEFT. WHEN SUCCESS AND OPPORTUNITY CAME, HE WAS GONNA HAVE TO BRING IT BACK AND INVEST IN THE AREA." – SAMIEL ASGHEDOM
He never hesitated to educate. He led by example and he was real big on education. He always educated himself. He said it was about empowerment. He spoke about how empowerment and opportunity helped him at a young age and paved the way for him to achieve his destiny; for him to see what life had for him. And anything that he learned, he always brought it back to anyone who was willing to listen.
For him, this neighborhood was everything. This was where he grew up at. We went to school, rode bikes, went to summer camps, church. We rode our bikes to Taco Bell. He knew everybody, and everybody knew him—grandmothers, aunties. People seen him grow, learn, change, open business. So it was never about leaving.
The people in this area were the first people who supported him. He always said that. So he was very prideful and he always wanted to be around and inspire people.
As a youngster, he never respected people who made it and left. So obviously, when success and opportunity came, he was gonna have to bring it back and invest in the area and inspire the kids, just like when he was young. And he did it. He stayed around. With all that was going on—police or neighborhood politics or whatever.
People would come to the Marathon Store from all states and all countries when they touch LAX. They'd get off the plane and they had to make a stop here because they respected what he was doing and how he was doing it. There are so many stores, but our store became like a mecca. Me and my dad and everybody that works here couldn't believe how many people came from all places. They'd take pictures and see where he started and see the location that he bought and the businesses that he put in this lot at Crenshaw and Slauson.
It was much bigger for him. It wasn't, "I'ma get some money and leave." It was, "I'ma achieve my goals and bring things that's bigger than music. I'm gonna be at the forefront of a movement." It's an inspiration that surpasses music. He was a shining example to everybody.
Marqueece Harris-Dawson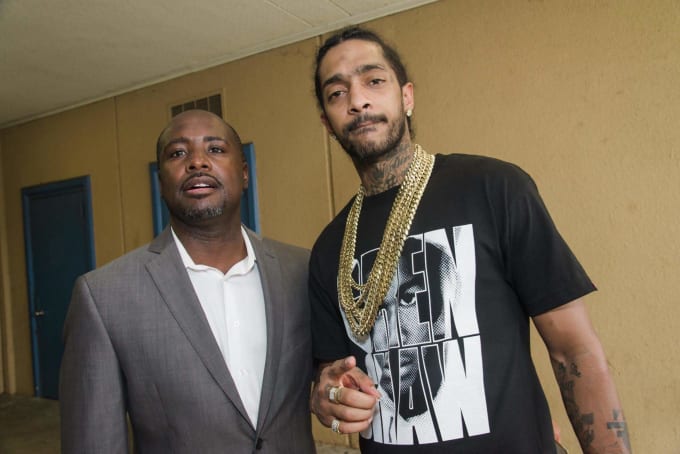 Los Angeles City Councilmember, District 8
Nipsey was very clear about his vision: If we wanted the kind of community that we deserved, we had to build it ourselves and own it and run it. That was his guiding principle. Also, that building and owning and running it would give us the resources we needed.
Another thing he was very big on was that we had to stop leaking. He had the All Money In campaign. Instead of taking money out of our community and spending it, we need to use our assets to bring money in.
When Nipsey or Tyler, the Creator or Ty Dolla $ign—all people who are from the neighborhood—when they go on a video and they wear a certain sneaker, that sneaker becomes very, very popular. But guess what? You have to go to West Hollywood to buy it. You can't buy any sneakers in our community, but we're the ones creating value. We have to go to someone else's platform to market the value, and in the process we end up losing a lot of the benefits of the value we create.
So that's what the Marathon Store was all about. That's what his alliance with Fatburger was all about. That's what his support for Destination Crenshaw was all about. We build it, we own it, we run it. Things will be the way that they should. We're the ones that will do right by us.
I met Nipsey before I was a politician. I was running a community organization, and I met Nip—ironically enough—at a march against gun violence. This was probably about seven years ago at Crenshaw High School. He shared his vision for his music career and his vision for community development, and I was struck by his passion and discipline. We started at eight in the morning on a Saturday, and I knew that he had a show the night before. He was there with his daughter and his team on full tilt, ready to go.
A lot of people have his principles and goals. His commitment and discipline and consistency were what was uncommon; exemplary, frankly. When he makes a record that says "Hustle all my life," if you follow his life, he's actually been hustling. His moniker is consistent with who he is on a day-to-day basis. I've never seen a situation where he was accused of not doing what he said he'd do—usually earlier and to a greater degree than he indicated he would.
"I EXPECT THAT THE MARATHON STORE WILL GO FORWARD AND PROSPER. AND MORE IMPORTANTLY, THE MARATHON STORE CONCEPT WILL CONTINUE." – MARQUEECE HARRIS-DAWSON
In the last couple days, I've been comparing him to Magic Johnson in terms of his commitment to this community, and in his refusal to be seduced outside of his community. Nipsey Hussle was one of the people who conceived the name "Destination Crenshaw" and really helped publicize the idea, and set it up to move towards completion. Destination Crenshaw is a 1.3-mile open air museum that will chronicle the story of African-Americans in Los Angeles. So when you ride the Metro Rail, which is under construction now, down Crenshaw Boulevard, on either side you'll see the story of black people in L.A.
This is important for a couple reasons. One, there isn't one place where you can get that story. Two, it is meant to serve as a bulwark against gentrification. As communities are changing, and there's economic pressures on neighborhoods that may or may not change them, no matter what happens and no matter who moves in, we want you to know what you're moving into—the same way you can't move into Harlem without knowing the history of African-American folks there. We want to do to Crenshaw what was done to Harlem in the 1920s. That will go forward and I think if anything, it'll grow.
I expect that the Marathon Store will go forward and prosper. And more importantly, the Marathon Store concept will continue. People will come to South L.A., to the Crenshaw district, to consume cultural assets that are created there. And you don't have to be in West Hollywood or around Fairfax to do that. I think others will begin to mimic his example, because that's been a financial success.
Vector 90—the co-working space and the STEM academy—I know that will continue because I've already talked to the people who run it. And if you come from this neighborhood and you have success—especially if you have success based on ideas that come from this community—I think that folks will reinvest in a more aggressive way.
I think what got to Nipsey was what gets to all of us that live here. "Oh, there's not a good healthy restaurant nearby." "Oh, there's not a good quality grocery store nearby." And you become agitated when those things are important. But when you're clear this is where you want to be, you figure that stuff out.
One of the most poignant conversations I've ever had with him was about a burger stand that was in the community. We wanted to replace this burger stand with a place that serves healthy food. And Nipsey says, "Yeah, I remember that stand and I'll be really glad when we get rid of it." He says, "I remember when I was selling T-shirts and socks on the corner here, and I went in there one day, the owner said to me that he was gonna remove the tables and chairs from the store, so the community couldn't sit down. They would just have to come get their food and leave."
And he said, "In my mind, I was just like, 'How dare you?' You're gonna come here, you're gonna take our money, and give us this bad food. And you don't even want to sit in the same room with us? How dare you!"
I was struck by that conversation because when he and his partners were going through the process to close escrow on the property, it turned out that this burger stand was a tenant of the building he was purchasing. And he was super clear, like, "I'm gonna be this guy's landlord." [Laughs]. And that happened!
Another time we were speaking to a crowd of young men, and there had been some police harassment, which you know happens from time to time here in Los Angeles, even now. The police came and they did the right thing: they were talking to the community. And the community was really coming at them: "You guys profile people, you disrespect us," and so on and so forth.
When it was Nipsey's turn to talk, he said, "Look guys, we have to attack this problem from two sides. So don't sit in your car and smoke weed on streets that you know police come to. Don't ride without your papers outside your neighborhood." Everything he said needed to be said to people, but no one else could have gotten through. No one else would have been heard. And that fact that he picked up on that and had the courage to do it…
He was unashamedly and unapologetically authentic. And that meant for everybody: for the hood, for the business sector, for the record business, for the entertainment community, for the political establishment. He got his message across in a way that very few people could.
The fact that he was killed right in front of the business that he built is just sickening and disgusting. Every time I think about it I get so angry that I don't have words.
Karen Civil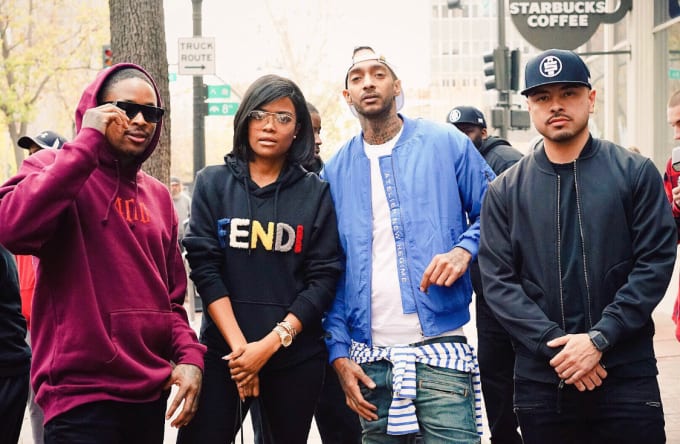 Author, brand curator, media strategist, co-founder of the Marathon Agency
I started working with Nipsey in 2012. It was four of us: Steven Carliss, Jorge Peniche, myself, and Adam Andebrhan. We collectively were a group that helped push Nipsey to the next heights. And in 2016 we started the Marathon Agency, where we were able to market and promote and help bring awareness for other artists. Within the Marathon Agency, we had Dave East, we worked with Nicki Minaj, YG, and Teyana Taylor as well; a combination of different people who understood Nipsey's business model.
"NIPSEY WAS SOMEBODY WHO WAS MORE THAN JUST A BUSINESS PARTNER. NIPSEY WAS A CONFIDANT. HE WAS A FRIEND."
Nipsey was somebody who was more than just a business partner. Nipsey was a confidant. He was a friend. There were personal times where we would all be going through something, and Nipsey would take off his entrepreneur hat and put on his friend hat. If you needed a better understanding of how economics worked, he told you. If you needed a better understanding of how life worked, he told you. He educated you in every sense. And when I say there was no one like him, there was no one like him. He was the epitome of greatness. To be in his presence made you feel like you could achieve and be anything.
When I started working on the Hillary Clinton campaign, I talked about it with Nipsey first. You always wanted to get your blessing from him. And not in the sense of just asking him. You wanted his thoughts on it. Is this a good idea? A bad idea? Whenever you second-guessed yourself, he was that voice of reasoning and understanding. He was our hope. He was a provider. He was everything that I felt was lacking in my life. Nipsey, Steve, Jorge, Adam, J Roc: I don't have family out here, and those are my brothers. When there were personal things that I went through, and I wanted to give up, Nipsey and Jorge picked me up. And I'm not talking about a work experience. They picked me up and they told me it would be OK.
I sat with Nipsey at a college basketball game, I believe in 2017. I had on a Harvard sweater. And Nipsey was like, "You going to Harvard?" And I said, "Not yet. This is helping me." And Nipsey said, "Don't ever tell people, 'Not yet.' And now I'm in Harvard Business School. This is the greatness of who Nipsey Hussle is. Nipsey pushed you to want more, to become more.
David Gross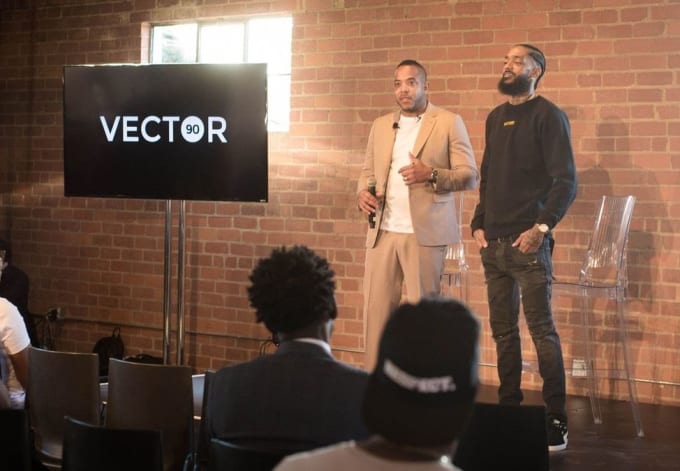 Nipsey Hussle's business partner, co-founder of Vector90 and Our Opportunity
There are a lot of entertainers, but there is actually no one else quite like Nipsey in terms of his extreme entrepreneurialism, and his views on ownership and empowerment. I can say definitively there's no one who's ever done it like him. People have done it from South Central. No one's ever done it in South Central.
He stayed in the neighborhood where he's from and built his entire career—and all his brands—off Crenshaw and Slauson. He was just unique. I'm not saying everyone should do what he did. It just felt natural to him. It wasn't contrived. He did it because that was him.
When I was conceptualizing Vector90, I knew I'd need a partner from the neighborhood: someone who was closely connected to it, who was authentic, who the community would embrace and trust. So there was no decision-making process. It was a given to try to work with him.
I started trying to connect with Nipsey through his team in early 2016. We ended up sitting courtside at a Lakers game, and literally the next day he came to my office and I showed him the deck for Vector90 and he said, "I'm all in."
I'm originally from the neighborhood. I moved away and lived in Manhattan for about 20 years. I was an investment banker, a credit default swap trader, so my life was very different than that of my family and friends that still lived in Inglewood. I had a very visceral feel for the neighborhood and I felt compelled to try and do something that would afford other people the opportunity that I had.
Vector90 is trying to create intellectual, creative, and economic opportunities in inner-city communities all throughout the country. This is bigger than South Los Angeles. We just shot a documentary—Nipsey, myself, and some of the city council members—about our plans to take Vector90 national. And we rolled it up into a larger initiative called "Our Opportunity" based on "Opportunity Zone" legislation that passed in 2017. Vector90 was the proof of concept and the eye-opener, but we have ten markets that we were planning to roll out. Now we're doing it.
Initially, we started out with 4,700 square feet of co-working space. Now we have 15,000 square feet of space on this one compound. There are different sections of the space for different purposes.
"HE WAS ABOUT TO HELP RAISE A MASSIVE REAL ESTATE FUND FOCUSED ON INNER CITY INVESTMENT AND REDEVELOPMENT. WE WERE HEADED TO D.C." – DAVID GROSS
Once we created the space—and we had people coming in and using it dynamically—it underscored some of the issues with the neighborhood, which speaks to the need for Vector90. We had to kind of adapt the services and amenities around where we are. People come to our space to work, but then they have to go other places to get healthy food. They have to go back toward Culver City or Santa Monica to go to a gym. People don't want to work all day and not be able to go have coffee. So we had to build a lot of what we need to support dynamic, high-performing entrepreneurs.
We started trying to build an ecosystem at our compound that doesn't currently exist in this neighborhood. We're making a café. We're building a gym. So we expanded beyond the initial concept. If you know anything about Nipsey, you know that's just kind of what he does. We're building everything with vertical and horizontal integration.
Whenever Nipsey was in town, he was at Vector90 on a regular basis. He went to take meetings. He went to think. He went to write. His sister has a business there. He'd go and talk to her. We'd take our meetings there, whenever he was in town and I was in town.
His death is a trauma that all of our team's experiencing because they looked up to him. They loved him. A lot of them are feeling it right now. But I can say that it was never a thought that it wouldn't go on. The very reason that we started with Vector90, as opposed to a charity or something philanthropic, was because we wanted something that was self-sustainable apart from his support or my support. We wanted something that, once we got it started, could be replicated and could be scaled. It wouldn't be dependent on him propping it up, me propping it up, or any one person propping it up. So it will definitely go on.
We recently did an interview with Forbes at the Marathon Clothing smart store. The writer asked me something with Nipsey right there, and I think I put Nipsey in a tight spot. I said Nipsey was going to be the evolution of JAY-Z and Puffy. They were people he looked up to, who we all look up to. I said that on tape then, and I'll say it now. That's what I think he was. Like he was chosen by God. He had examples, like Jay and Puff, and he took from them. And then he became that example to everyday people. He made a lot of people want to be entrepreneurs; want to be bosses; want to start businesses; and do it with their own people.
The range of his reach is what's unique about Nipsey. He could be at the Roc Nation brunch with all the people we just talked about, and be respected as an equal. And then he could be on Slauson and Crenshaw and be embraced over here as someone who's still accessible and relatable. That's a very unique thing.
He was about to help raise a massive real estate fund focused on inner city investment and redevelopment. It was very buttoned-up and very credible. We were headed to D.C. to speak before the Ways and Means Committee and meet with Senator Corey Booker and Senator Tim Scott. It was myself, Nipsey, and T.I. We were going as a coalition for this broad agreement called "Our Opportunity." Nipsey was obviously an anchor. It was our concept that we were pulling other people into. So that will happen, but I think it should be memorialized that we were starting something that is going to be a thing.
Samantha Smith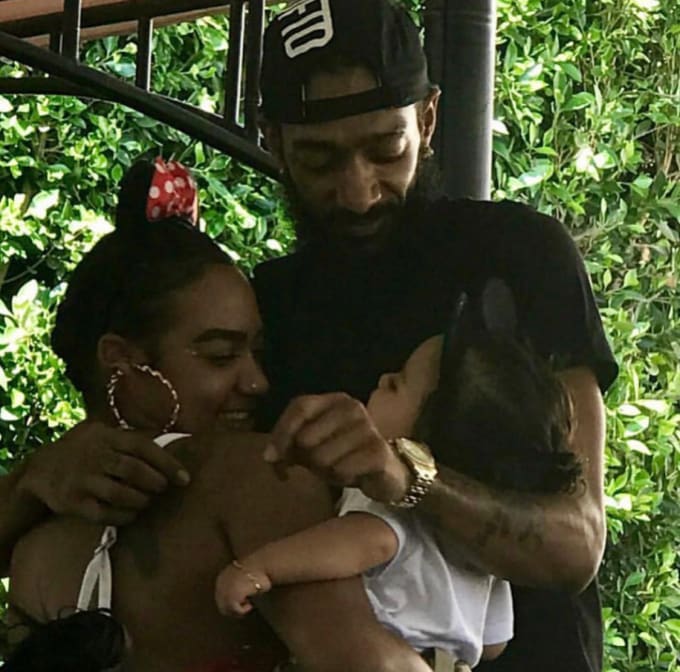 Nipsey Hussle's younger sister, founder of GLO by Samantha Smith
I received my license in aesthetics about five years ago and became a clinical aesthetician by doing advanced training. I worked in spas and work centers so I could gain more knowledge in the area I was pursuing.
I had lots of conversations with my brother about ownership. I'm very creative, like him, and I wanted to make sure that I was able to give a personalized approach to my business: not just this corporate feel where people come into these spas and are rushed in and rushed out to meet a time or a quota. I wanted it to be more personalized and more of a healing than just a treatment. So that's what I did, and I went into business for myself about a year ago.
We would talk all the time about ownership. We actually were getting ready to have a meeting in a few weeks, about getting a retail space in the Crenshaw district. I wanted to keep my business in this district. I didn't want to go to the Melrose, Fairfax area. I wanted to open up a wellness center here in this area. We had been talking a lot about what we could do as far as connecting all the dots between what he was doing and what I'm doing.
Our legacy is very, very important; what we leave. Nip always spoke on first generational wealth. Our parents didn't have anything to help us start, so we had to do that. When we leave this earth, our kids are straight and their kids are straight for generations. We used to speak on that.
When I own something, then I know that no one can take it from me. That's mine. And that means even my son has some type of leverage, some type of security. It was important to him to make sure that everybody you care about can depend on you. And that only happens when you are the owner of what you're doing.
Vector90 is important because there are so many people that aren't as blessed to be walking a path where things are aligning how they are. I feel like Vector90 gives a platform to people who don't know where to start, or how to start.
"IT WAS IMPORTANT TO HIM TO MAKE SURE THAT EVERYBODY YOU CARE ABOUT CAN DEPEND ON YOU. AND THAT ONLY HAPPENS WHEN YOU ARE THE OWNER OF WHAT YOU'RE DOING." – SAMANTHA SMITH
Fortunately, I have people like my brother who is still my role model to this day [her voice cracks]… and will be continuously. Fortunately, I have somebody who I can look up to and I know he's going to give me the right answers, and let me know what needs to be done. I have somebody who I can follow in his footsteps. But everybody doesn't have that person.
Vector90 is a place where you know you can come and there's like-minded people. There's people on a similar path as you, and there's people who can help catapult your career or whatever it is you wanna do for yourself. So that's what it is: a huge integrator for people who are on the same track business-wise and are trying to get something started. And it's something big for this community. Because when it comes to minorities, we don't have anything like this. We often get slipped through the cracks. So that's what it means to me working here.
It's beautiful seeing all the memorials all over the world. It's beautiful that so many people have been able to connect with such a special, chosen person. It just confirms the person that he is. I already knew he was this type of person, so I'm just grateful that the whole world knows he is.
It also saddens me, too. Because at the end of the day, not only do I feel like I lost such a significant person in my personal life, but I also feel like the whole world lost such a significant person, too.
He was bigger than the relationship that we had, and to me he was bigger than the relationship the world had. So it seems like two people are gone. It doesn't feel like just one person. It's such a void on a personal family level, and it's such a void on a worldly level. But I'm definitely grateful that people are able to see him for who he is and that he was able to touch as many lives as he did. I just feel like he's the chosen one.
Will his work and his legacy continue? Definitely. Without a doubt.
Iddris Sandu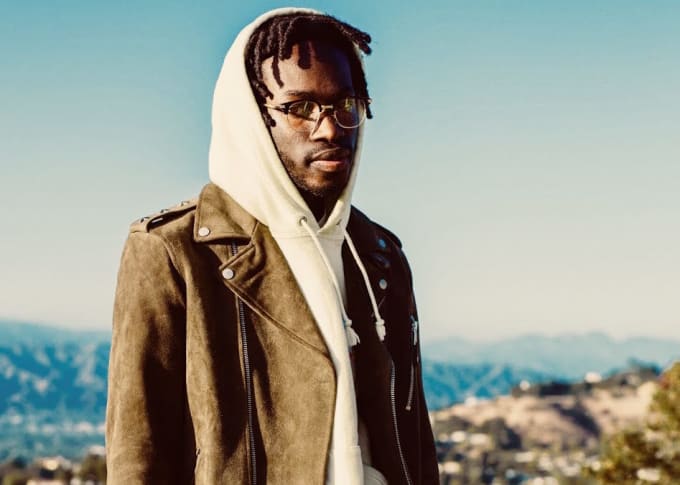 Chief Technology Officer of All Money In, designer of TMC smart store app
Everything we do, we do for the culture. We always make that known before proceeding in any form of dialog. Everything we do, all the victories we claim, are in God's name and in the universe's name.
My relationship with Nip was very unique. He served as a big brother, a business partner, a friend, an activist: so many things, all in one body.
He approached me the most respectful way anyone ever has in my life. I was at Starbucks working on some code that I had wrapped up over at Uber. He saw what I was doing, but he didn't just barge in. He said, "I don't want to take away from what you're working, because it seems like you're really focused. But if you don't mind me asking, what is it you're doing on your computer?" We ended up exchanging information and building at the studio that night.
We had so much mutuality: the fact that we were both African; the fact that we both had the experience of going to Africa and connecting with our roots and really wanted to push the culture in the right way. So we started from a very solid foundation.
He said that he wanted to launch a store, and he didn't know when he was going to launch it. He saw that the work I was doing for the culture and technology was so necessary. He knew it was bigger than us. It was necessary for the culture.
"THE NUMBER ONE MESSAGE NIPSEY PREACHED WAS INFRASTRUCTURE DEVELOPMENT: CREATING AND NOT JUST CONSUMING." – IDDRIS SANDU
We conceived the Smart Store [together]. We started talking in May and we launched it in June. I got to meet the family, meet his brother, meet his mom; meet everybody before even working on this. We talked about our roots. We talked about books that we read, like Contagious. And we talked about movies we watched, like The Spook Who Sat By The Door. We watched Dr. Sebi videos. We watched documentaries about Steve Jobs. That was all part of the creative process of the store, and then actually building everything out and laying everything out. The process was very thorough and well-thought-out. It was very synchronous in terms of ideation, learning, scouting, exploring, and then executing.
We had the attention of everyone from JAY-Z and Nas, all the way down to 21 Savage come to show support. We shut down two blocks. Even Nipsey was shocked at the reception the smart features got. People can still go up there right now, buy merch, and download the app. I was talking to Nip's brother Sam because I wanted to work on a tribute book for him, and then just continue the legacy, and continue building. It's extremely important that we continue.
We launched that store together. For him to pass right in front of the same store, right on that same pavement that we cut the ribbon on… These are all signs that the universe gives us.
It's really interesting how everything is coming full circle now. When I use the word "interesting" over "tragic," it's because I do not believe this is a tragedy. It's a breakthrough really. To say it's a tragedy would be to imply that his message won't be continued. It's a breakthrough because now you have so many people who were impacted by Nipsey—whether they met him or not—coming out and showing support. So to me it's a breakthrough.
In "Dedication," he literally said he knew he's a genius. He just can't claim it "cause they left me no platform to explain it." Nip gave me that platform, and yeah, we're going to continue his legacy. Everything he was working on: the STEM project, Vector90, Destination Crenshaw, the documentary. We're going to continue doing all of that. Because he really understood. Let me not hinder him. Let me elevate him. Because it's really for us. It's not about him per se.
Even in the talks that we had, there were talks about moving it to Fairfax. And I was like, "Nah. This needs to be in the hood. We need to make this the Apple Store of the hood." Although you might look at this community as whatever you choose to call it: a ghetto, the hood. Let's be a reflection of what good can come out of it. We deliberately put the store right there on purpose. That was 1000% his intention.
Obviously he had roots there. He grew up there and everything. But the reason he put the store right there was to show that this is the product that can come from the hood if it's catered in the right way. This is that rose that can grow from the broken pavement.
Nipsey's legacy transcended music. He disrupted the model. It's the same thing I'm doing in tech, disrupting the model. And he saw that.
"NIPSEY LEFT US WITH A PHYSICAL BLUEPRINT OF ECONOMIC RESOURCES. […] HE LEFT US WITH BUYING POWER AND ECONOMIC POWER." – IDDRIS SANDU
For me personally, the conversation that really brought it together was operating systems and infrastructure. You know, your iPhone runs on an operating system called iOS and the apps are literally rented space. As with all communities, they have guidelines. He was trying to disrupt the model and that's why we even connected and why that was important. What we were working on was the operating system for the retail business. That's what it was, and we were going to move to different locations. One in every major city.
I feel like the best way to continue his legacy is to look at the one thing—just one thing—that he was talking about. Yes, it's community empowerment and everything like that, but the number one message Nipsey preached was infrastructure development: creating and not just consuming. As black people, we consume the most and our production rate is very low. You see Bird being a $2 billion company in one and a half years. With somebody on the street selling T-shirts or whatever, it takes them ten years to get where they want to be. The difference is infrastructure. So that's the main message: keep building our community up; keep creating; keep amassing wealth; infrastructure; information. On the low, that's what we're pushing forward: building our own infrastructure.
I've been fortunate. I've been able to work with the likes of Kanye and Jaden Smith and all of these people. With Nip, Nip was real. Nip was as close to the truth that you will ever get. He walked in his power. He was unapologetically truthful. And that's why I gravitated to people like Kanye. But the thing with Ye is, he was unapologetically truthful with no filter and all that. But for Yeezy, it was anybody that could help at any given time. [Laughs]. And that was sort of the difference. I designed the Yandhi album cover. I went to Africa with Ye, and all of that. But I didn't feel as connected with Ye as I did with Nipsey.
Nip always said, "The highest human act is to inspire." He did that, and continues to do that. He called himself "the 2pac of my generation." I love Pac. He's weighed very much on me. But Nipsey did, whereas Pac spoke. Pac left us without a blueprint, a physical blueprint. We can talk all we need to, but Nip left us with a physical blueprint of economic resources. You know, to build a community you need three things: you need buying power, you need political power, and you need economic power. I think about what Pac left us with was the political power. Nipsey left us with buying power and economic power. That's the blueprint we need to continue with.
Nipsey had the word "Prolific" tatted on his face, right below his eyebrow. That's my take from Nip: to remain prolific at all times. Prolific means to be an enigma. Prolific is to be a Pandora's Box; a large quantity of abundance. And that's at the heart of what Nipsey did.
That's what I really would like to continue: to be prolific with our infrastructural development, to be prolific with our cultural impact, and to be prolific with our unapologetic truth. Politically and economically, as it relates to completing a task or even delivering a message: to be prolific with the infrastructural development.
There's really only one enemy, and that's the people who are against spreading the information to everyone. And those that aren't willing to empower everyone else. Nipsey could have been like anybody else who grew up in the hood, got big, and left. But he kept coming back always. To show: "I got you guys. I'm here. Always."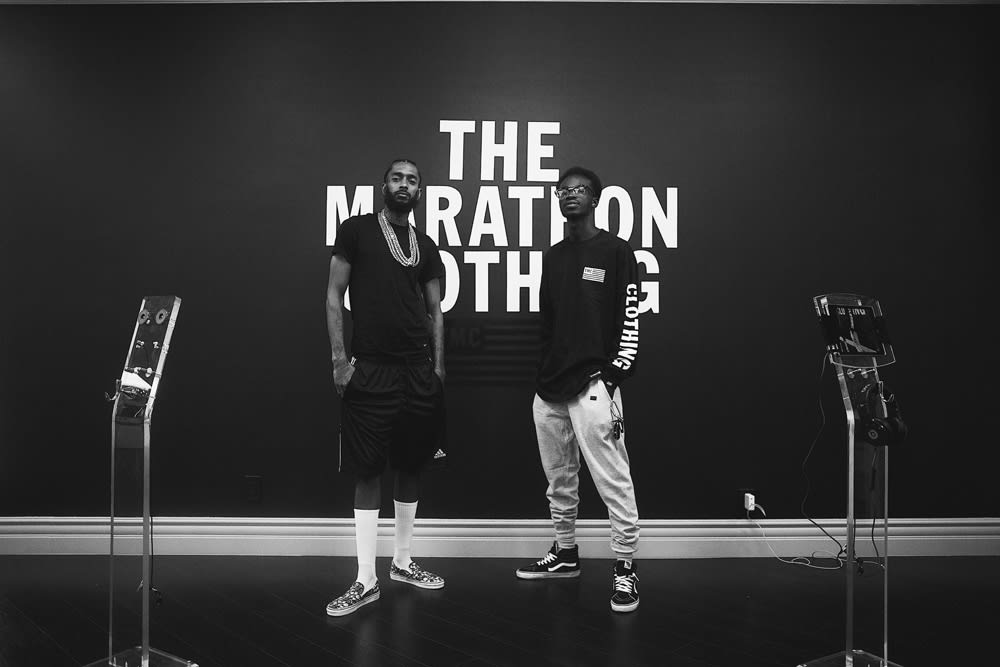 source: complex.com BYROB KENNER