Off-White, once again presumably surprising not a single person, has been deemed the hottest brand in the world by way of the latest Lyst Index update.The Virgil Abloh-founded luxury label comes in at No. 1 on the Q1 2020 ranking ahead of Balenciaga (No. 2), Nike (No. 3), Gucci (No. 4), Prada (No. 5), and more. In terms of shuffling, the No. 1 spot is nothing new for Off-White, which has bagged the spot for three consecutive quarters. Nike, meanwhile, lands in the third spot after previously coming in at No. 12 in the Q4 2019 rankings. Balenciaga's No. 2 spot also marks a gain, as the brand was at No. 3 for the previous quarter.
As a Lyst broke down in a press release on Wednesday, the brand's "loyal and highly-engaged social following" has proven particularly crucial during the COVID-19 era. And on that note, demand for fashion face masks at large saw a 496 percent surge for the quarter. The Off-White arrow face mask, meanwhile, came in at No. 1 on the ranking of the hottest men's products.
The ranking of hottest women's products is topped by the Bottega Veneta padded cassette bag, besting other covetables including the Gucci GG pattern tights and the New Balance 993's.

eep the full Q1 2020 Lyst Index of hottest brands—which is determined using analysis from online shopping, Google search data, and social media metrics—below: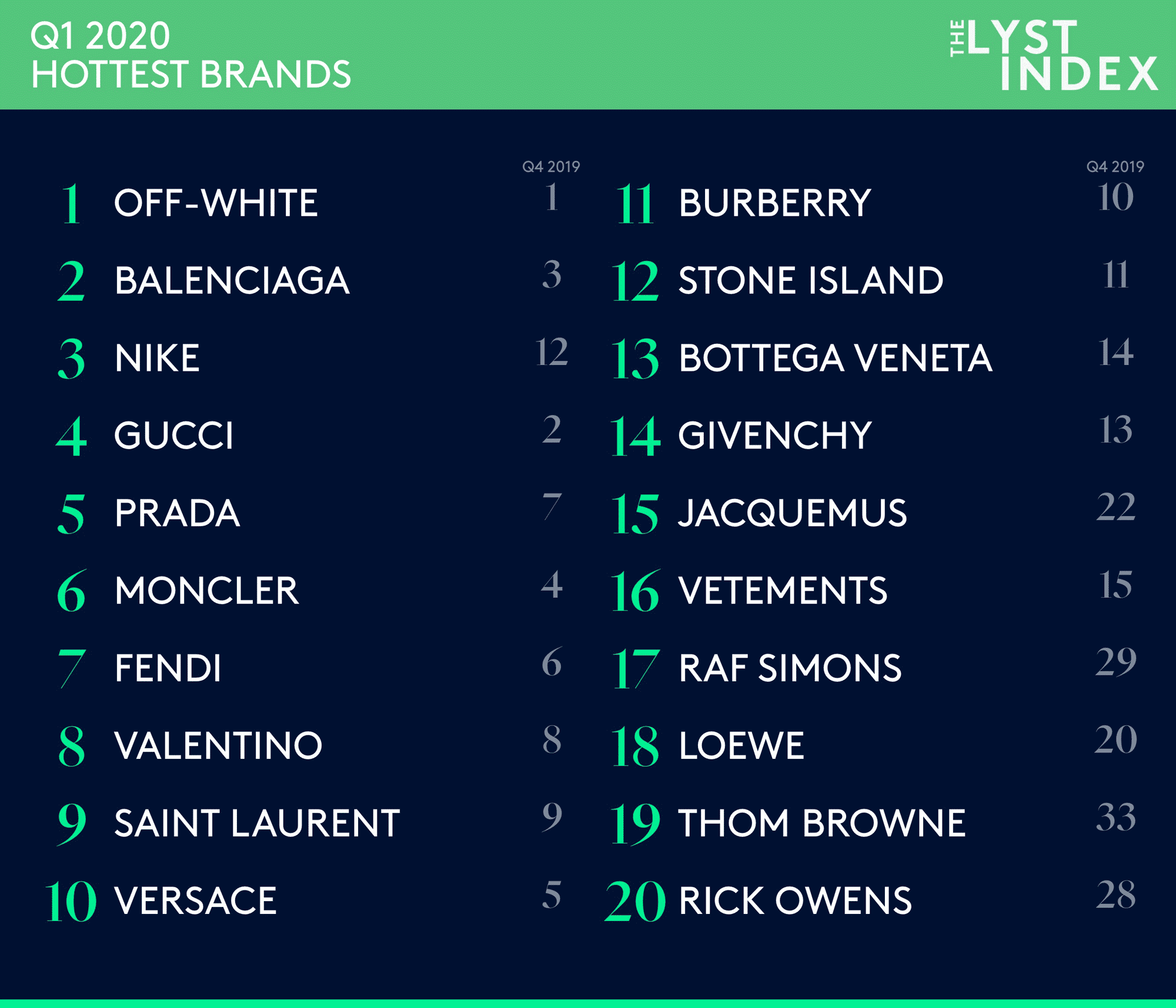 In wholly related news, if anyone is reading this while possessing the deep-rooted desire to send me one of those Off-White face masks, please feel free to make good on that desire by reaching out and whatnot.
source: complex.com BYTRACE WILLIAM COWEN