"Proud Boys, stand back and stand by."
These are the words President Donald Trump proclaimed when Chris Wallace asked him to condemn right wing militias and white supremacist groups during the first presidential debate Tuesday night. An extremist group with ties to white nationalism, the Proud Boys were elated to hear the statement during the televised dumpster fire which drew 73.1 million permanently scarred viewers. In fact, the group took to the web via conservative channels (Proud Boys has been banned from Instagram, Twitter and Facebook) to express their delight with what they perceived as a not-so-subtle call to arms. Members and supporters of the Proud Boys rushed to create memes, t-shirts, logos and shoulder patches featuring Trump's phrase. Seizing upon the news cycle to create merchandise has become a habit for the sect as "Rittenhouse Did Nothing Wrong tees" have been spotted at Proud Boy rallies since Kyle Rittenhouse's arrest. 
Trump's statement also served as a rallying cry for the xenophobic, misogynistic fraternity and sparked a recruitment drive. Although exact Proud Boy membership numbers are unknown, in 2018 the FBI warned of their recruitment efforts throughout the Pacific Northwest. Ironically, the group encourages membership from any man, regardless of race or sexual orientation. A fundamental requisite, however, is that any prospective member "recognizes that white men are not the problem."
For those just learning about this group, we provide a synopsis of the Proud Boys, its roots and core beliefs, and why federal and local law enforcement agencies are paying significant attention to this armed and dangerous collective.
Who are the Proud Boys?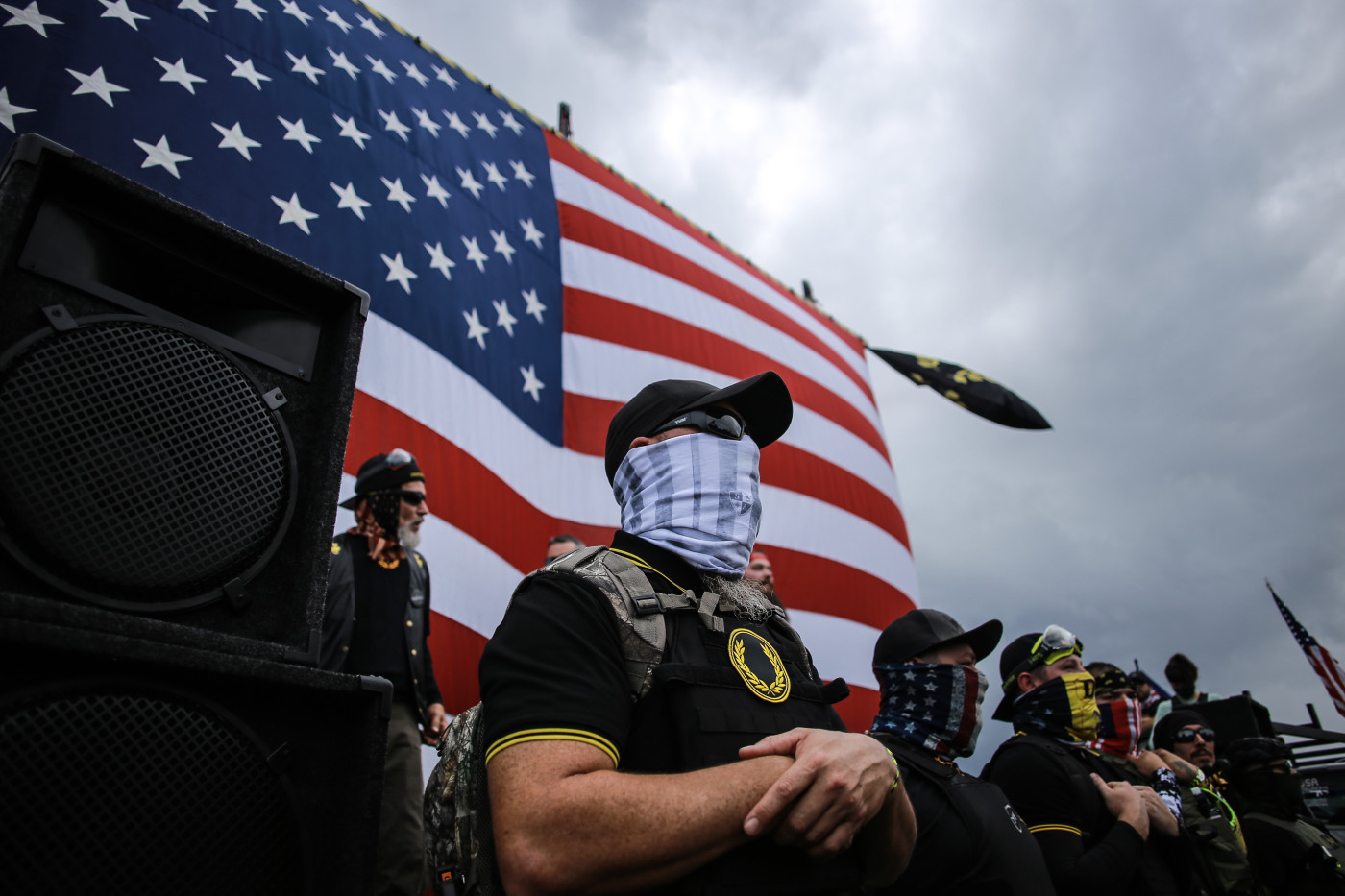 Launched in New York, during the 2016 presidential election by VICE co-founder Gavin McInnes, the Proud Boys are an assemblage of men who believe in the inherent superiority of Western culture. They declare themselves to be "western chauvinists" and wholeheartedly believe they deserve recognition for creating the modern world. Besides promoting minimal government, anti-political correctness, anti-Semitism, transphobia, anti-immigration, and pro-gun rights, the group claims that racism is a white liberal myth, feminism emasculates men, and Islam is definitively violent. The Proud Boys say that they are 5,000 strong, that their membership "spans the globe," and that they are a "drinking club with a patriot habit."
It's not clear who or what funds the group, but Megan Squire, a professor at North Carolina's Elon University who tracks extremist groups online, said members pay monthly dues of $20. Squire also shared that membership overlaps significantly with neo-Nazi groups.
Most noteworthy is their wholehearted reverence for violence. Since their formation, they've engaged in multiple acts of violence and intimidation against their perceived enemies, though they swear that they are peaceful, opposed to senseless violence, and only engage in self-defense. According to an email written to USA TODAY by Proud Boys spokesman Ronald D. Coleman,  the current Proud Boys chairman, Enrique Tarrio, who is of Afro-Cuban descent insists that the group has prohibited racist, white supremacist and violent activity since its inception.
They have consistently maintained a presence as counter-protesters at Black Lives Matter demonstrations as well as supporters at alt-right marches and events—including the 2017 Charlottesville "Unite the Right" rally. White nationalist Jason Kessler, the rally's principal organizer, was a Proud Boys member at the time.
With chapters in most states, the male-only gang is run by local chapter leadership and is often recognized by their "Proud Boy" tattoos, black and yellow Fred Perry polo shirts, MAGA hats, and combat gear. They are also known to shout the Swahili word "Uhuru" which means freedom.
What do the Proud Boys want?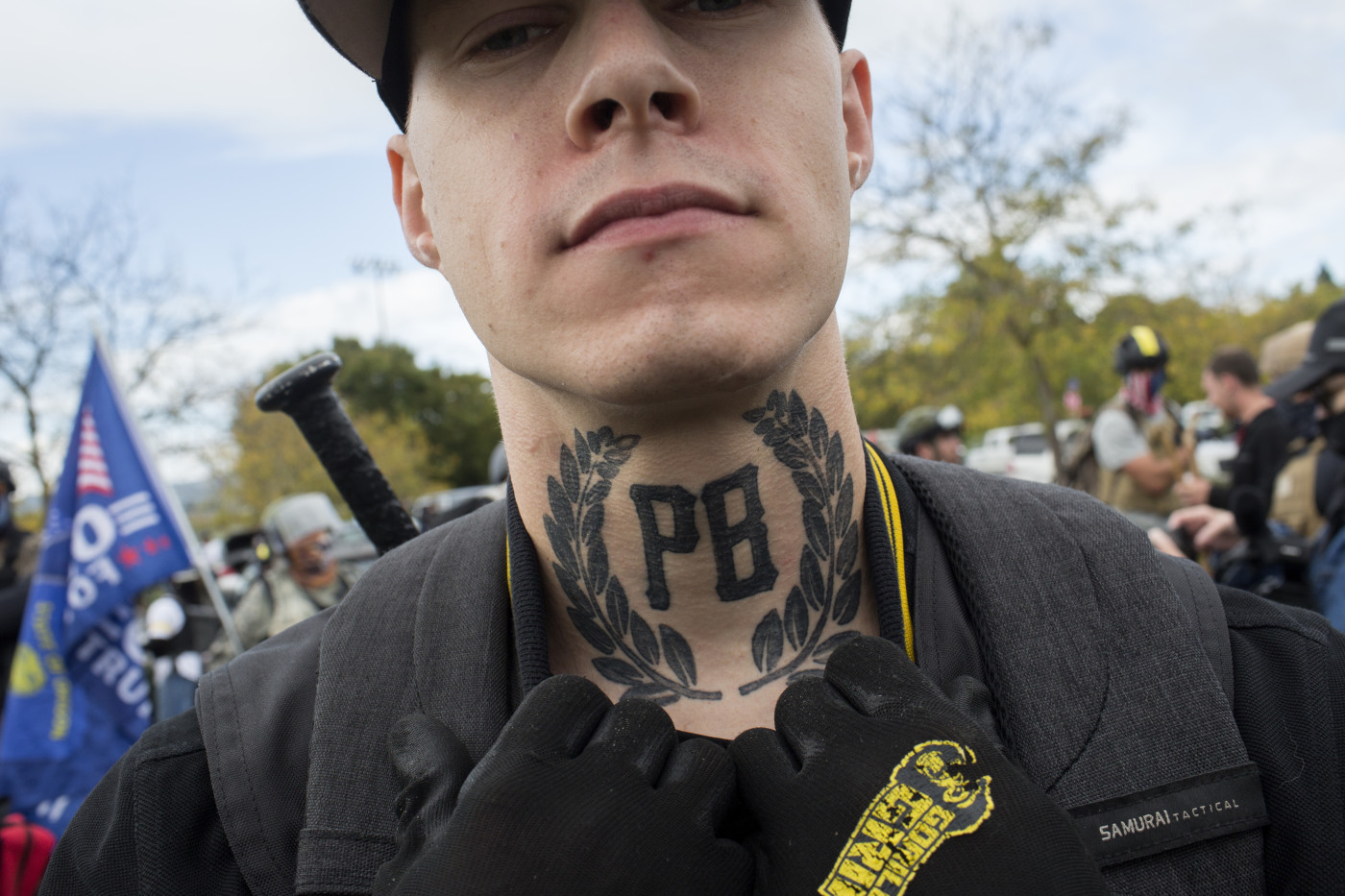 In a 2018 speech delivered by Proud Boys creator McInnes, the English-born Canadian writer, political commentator, and podcaster explained how the group was completely made up on a whim. The name of the group was taken from the song "Proud of Your Boy," which comes from the Broadway play, Aladdin. McInnes spewed the flippant rights, rules, and practices of the faction off the top of his head when pressed by interested parties.
In theory, McInnes touts an embrace of white pride by closing the borders, preventing dilution of white culture, and encouraging everyone to adopt Western, white, English-speaking habits and values. In practice, the Proud Boys are effectively a ragtag fight club who purposefully targets, triggers, and provokes anyone perceived to be in opposition to their values for an excuse to become violent. McInnes has often recommended violence as an effective solution to problems and has encouraged members to literally "fight for the cause."
In August, Proud Boys sparked fights with counterprosters in Kalamazoo, Michigan and law enforcement had to step in to quell the upheaval.  During a Proud Boys rally  in Portland, Oregon, in late September, video captured moments of an assault that took place after a suspect kicked a man in retaliation for livestreaming the event.
Who are the Proud Boys' Girls?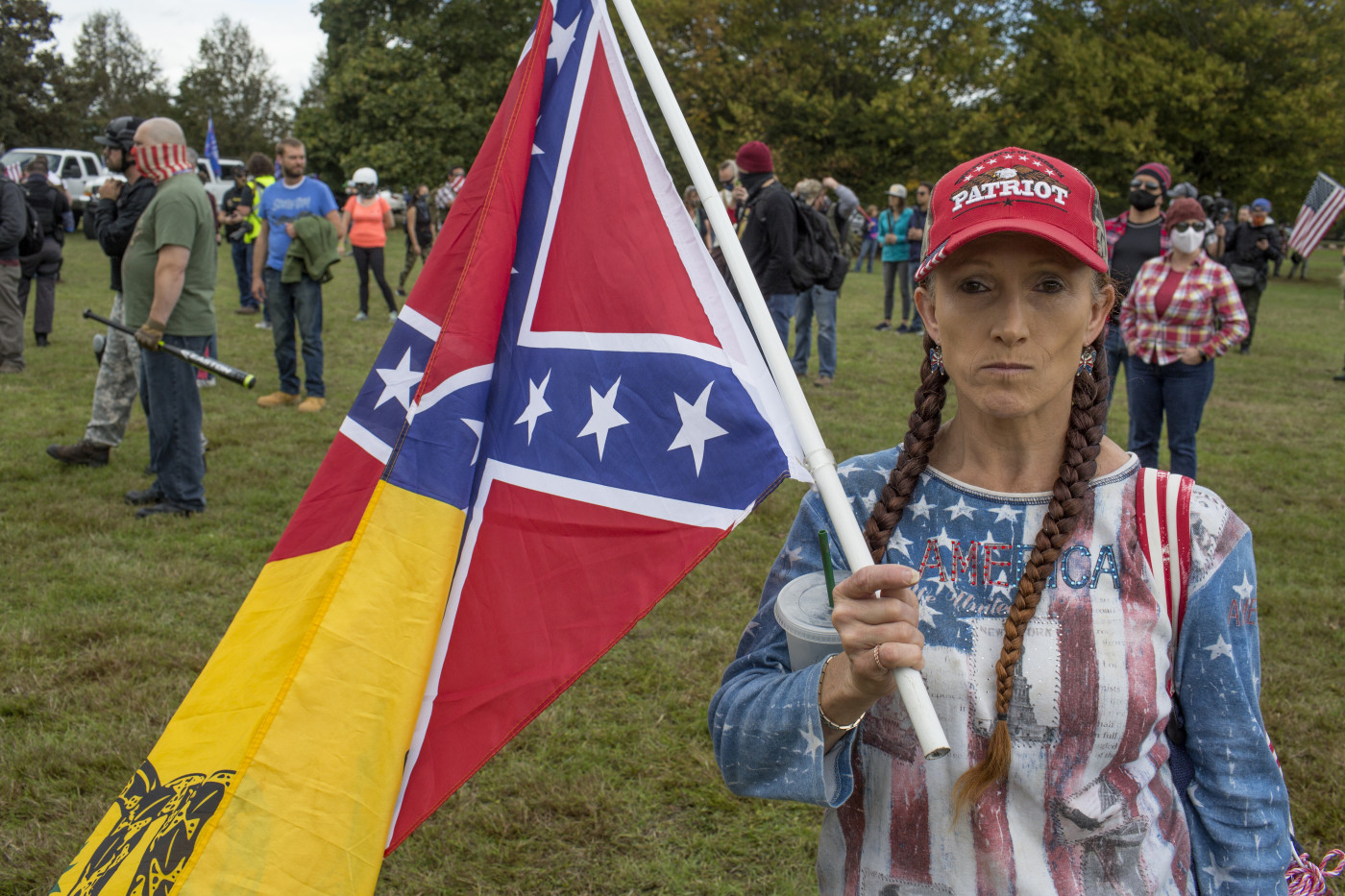 Though the Proud Boys membership is restricted to cisgender males, they are connected to a contingent group of female supporters who refer to themselves as Proud Boys' Girls. As is the case with the male faction, women backers buy into the notion that "men should be men and women should be women." Hence, they enjoy the Proud Boys' rule to not masturbate and join them in advocating heterosexual intercourse, promoting marriage and denouncing feminism.
Ultraconservative media pundit Ann Coulter, who the Proud Boys have bodyguarded on several occasions, has said, "I support men-only organizations, strongly. There ought to be some places where men can go just to relax and not have to be on duty, be chivalrous and protective of women…" Of the Proud Boys specifically, Coulter tweeted in 2017, "I met your Bay Area Proud Boys in Modesto tonight. I think those guys can keep me safe!"
Why is the FBI concerned about the Proud Boys?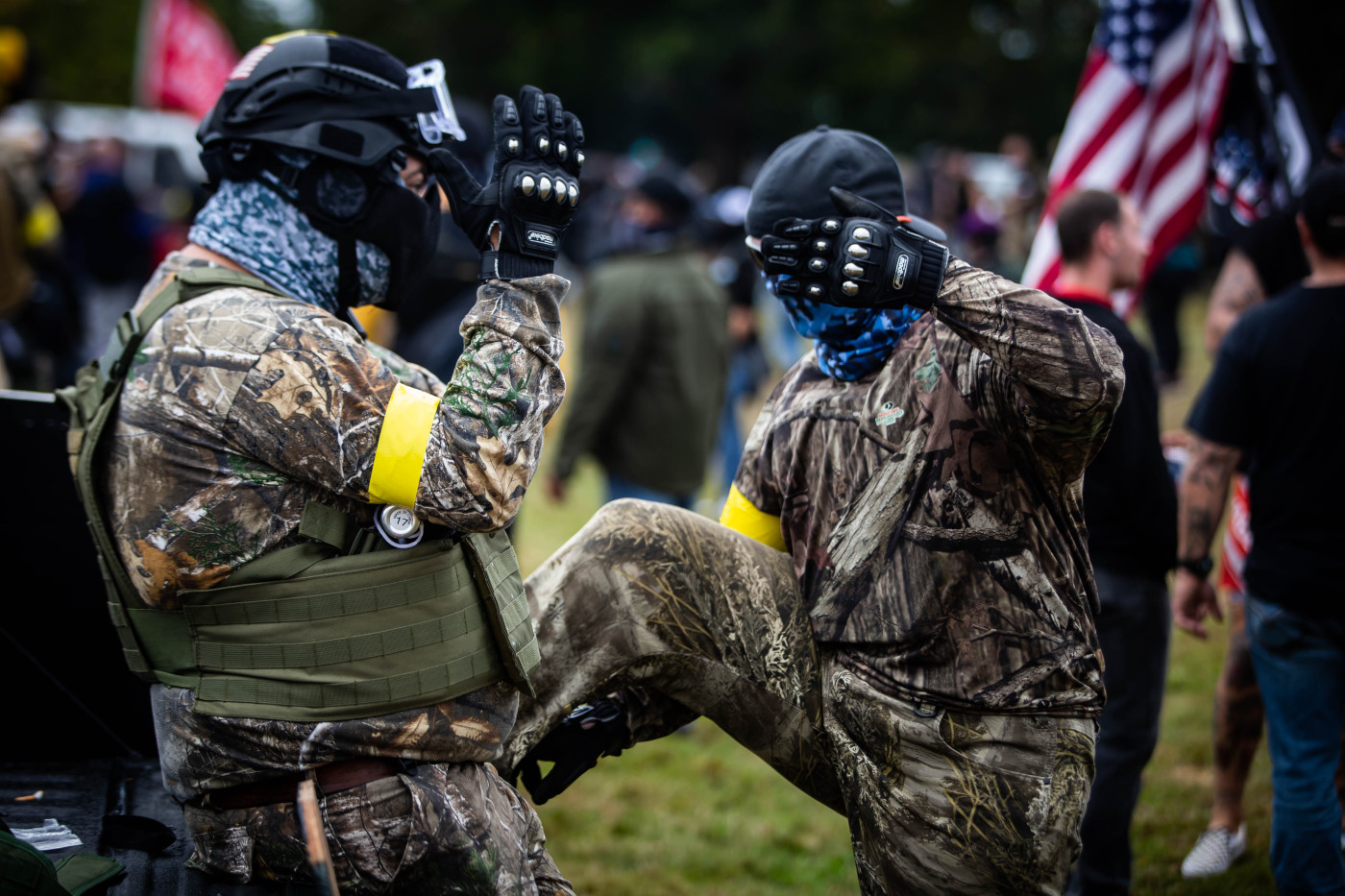 In October 2018, following a rash of incidents, videos, and reports of violence involving the members of the Proud Boys in New York City, Governor Andrew Cuomo called on the FBI, NYPD, and the State Police Hate Crimes Units to launch a thorough investigation.
Having already begun an investigation into domestic terrorism in December 2017, the FBI concluded their assessment in March 2018 and issued a now heavily-redacted communication on criminal activities perpetrated by the Proud Boys. While the FBI has stated that it "does not and will not police ideology," the agency has noted the group's intent to intimidate and coerce civilians as well as impact government policy. Despite Proud Boys' proclamations of being anti-establishment, their supporters include high-profile Republicans such as political consultant Roger Stone as well as Hawaiian congressional candidate Nick Ochs.
With Trump's debate reference, the group has been even further elevated. Trump has since walked back his debate statement by echoing Republican assertions that his word choice was an unfortunate slip of the tongue. Despite insisting that he meant to urge the group to refrain from taking the law into their own hands and leave matters to law enforcement, avowed white supremacists remain intent on taking Trump's words at face value and believe war is on the horizon.
source: complex.com BYNIKKI IGBO