Yikes, is it ever gonna be hot in the western United States this week. The National Weather Service has issued an excessive heat warning for Arizona, Nevada, and parts of California, where temperatures are expected to reach as high as 122 degrees F (50 C). State and local officials are asking people to take the necessary precautions.
Most of the desert dwellers who call this part of the United States home are accustomed to high temperatures, but the dial is about to be kicked up a notch in the coming days. Excessive heat is projected for portions of Arizona and Nevada, and throughout the 450-mile (725 km) length of California's Central Valley. In Phoenix, it could get as hot as 120 degrees F (48.8 C), and Palm Springs is projected to reach a whopping 122 degrees F (50 C) by Wednesday. Similar temperatures are expected across much of the US southwest, prompting a public health hazard.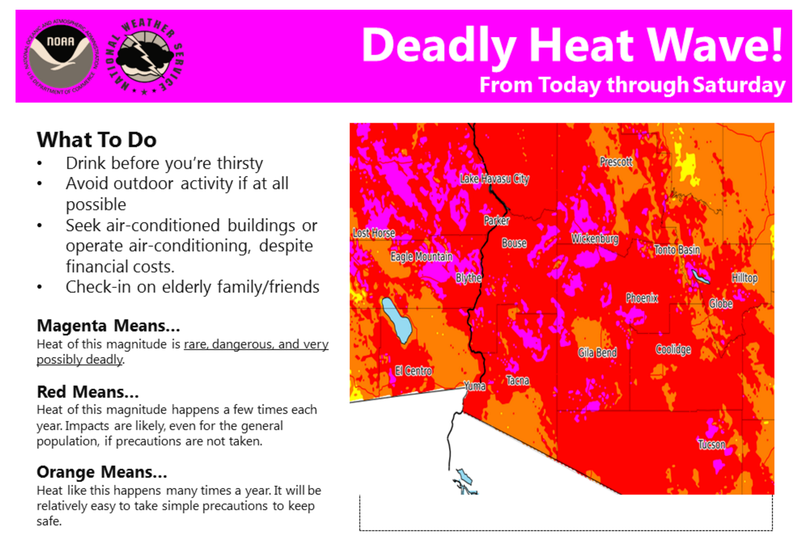 "Here in Tucson, one of the hottest inhabited places in this land, we're about to kickoff our longest and most intense heat wave in history," noted meteorologist Eric Holthaus in his newsletter. "At least four days of 110°F+ are in the forecast, and Phoenix will be pushing 120°F. The urban heat island effect in both cities will be making the heat worse, but broader assessments of the extreme state of the atmosphere over Arizona will also be at or very near record levels. By all accounts, this is about the hottest that the hottest part of the country ever gets. Of course, there's a climate link here too: Here in Tucson, we already have nearly a month's worth of extra 100-degree days than we did just 30 years ago."
Indeed, it's already uncomfortably warm in the southwest. This past weekend, temperatures reached a staggering 124 degrees F (51.1 C) at Death Valley National Park. A dry, high-pressure system is currently lingering over much of the area, resulting in the excessive temperatures. In addition to the heat, meteorologists are predicting thunderstorms and strong wind gusts.
Cities are bracing for the heat, with jurisdictions setting up cooling centers and water stations. The public is being advised to seek relief in air conditioned dwellings, and (very importantly) to stay hydrated.
"It's now much more common to have 'cooling centers' in large cities gripped by heat waves," noted Bob Henson, a meteorologist at Weather Underground, in an email to Gizmodo. "These give people who lack A/C a chance to find some respite. I hope everyone takes the risk of dangerous heat seriously and takes advantage of whatever relief options they have. Dying alone at home in a heat wave is a terrible thing."
It's tempting to attribute this latest blast of heat to climate change, but we won't know for certain until patterns are spotted in the long term data. But if the climate models are to be believed, this could be the start of an upsetting new trend.
"There are clear signs that heat waves will tend to become longer and more intense as our climate warms. This doesn't mean every heat wave will be a record-setter, but more and more of them will be," Henson told Gizmodo. "One of the hallmarks of this week's Southwest heat wave will be its duration. Many locations could beat all-time records for the most consecutive days above thresholds such as 110 degrees F. It will also be tough for nights to cool down very much. The deadliest heat waves tend to be both intense and prolonged, with very warm nights that don't give people without air conditioning a chance to cool off."
Indeed, this latest heat wave is not something to be trifled with. If you live in the US southwest, please be sure to take all the appropriate precautions.
source: gizmodo.com by George Dvorsky