The US Food and Drug Administration has approved Probuphine, the first implantable drug for the treatment of opioid dependence. It's a welcome development at a time when scores of Americans are addicted to painkillers such as OxyContin and Vicodin.
Prior to today's announcement, Probuphine was only approved as a pill or as a film placed in the mouth until it dissolves. This hi-tech implantable version, which consists of four, one-inch-long rods that are placed under the skin, provides ongoing treatment for six months. Unlike pills or films, these implants can't get lost, forgotten, or stolen, so the drug can't be abused or resold on the street. What's more, patients who are in recovery won't have to be reminded or even think about taking the medication; the implants do all the work.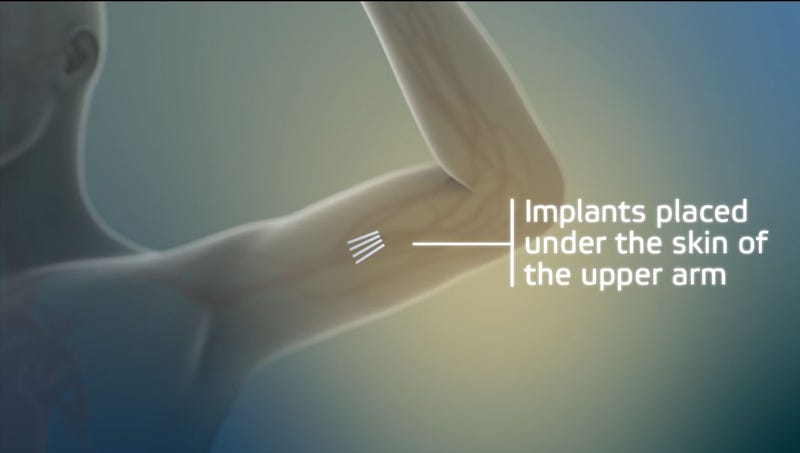 "Opioid abuse and addiction have taken a devastating toll on American families. We must do everything we can to make new, innovative treatment options available that can help patients regain control over their lives," said FDA Commissioner Robert M. Califf in a statement. "Today's approval provides the first-ever implantable option to support patients' efforts to maintain treatment as part of their overall recovery program."
Indeed, opioid addiction has become a serious problem in the United States. It's estimated that 2.1 million people in the U.S. currently are addicted to prescription opioid pain relievers, while another 467,000 are addicted to heroin. The number of unintentional overdose deaths from prescription pain relievers has quadrupled since 1999. According to the CDC, deaths from opioid overdoses reached a record 28,647 in 2014. These drugs now kill more Americans than car accidents or guns.
Probuphine, which is marketed by Titan Pharmaceuticals and Braeburn Pharmaceuticals, is meant for people who are already stable on low doses of the drug. Administering the drug requires specific training, and only a health care provider who has completed the appropriate training is allowed to do it. At sufficient doses, the drug reduces opioid withdrawal symptoms and the desire to use, while also decreasing pleasurable effects of other opioids. Importantly, the implantable drug will be administered in conjunction with other therapies, including counseling and other behavioral therapies.
"Scientific evidence suggests that maintenance treatment with these medications in the context of behavioral treatment and recovery support are more effective in the treatment of opioid use disorder than short-term detoxification programs aimed at abstinence," said Nora Volkow from the NIH. "This product will expand the treatment alternatives available to people suffering from an opioid use disorder."
The safety and efficacy of Probuphine was recently demonstrated in randomized clinical trial of adults. Over 60 percent of patients exhibited no evidence of illicit opioid use during the six months of treatment. That said, the implantable drug has its critics. As Judith Kramer of Duke University noted in the Washington Post, some trial participants still needed supplemental buprenorphine for relief, which to her suggested that the implant dose was too low. Other critics argue that it's too expensive.
While these concerns are duly noted, something radical clearly needs to be done about this serious and ever-escalating problem. Kudos to the FDA for allowing this innovative product to hit the market, even it it's still far from perfect.
source: gizmodo.com by George Dvorsky